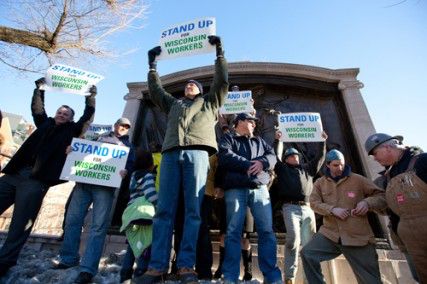 To show solidarity with protesting Wisconsin state workers who are fighting against a bill that would curb their collective bargaining rights, crowds chanting "union," and "kill our bill" rallied in front of the Massachusetts State House on Tuesday afternoon.
About 1,500 Bostonians gathered in protest of Wisconsin Gov. Scott Walker and the state's GOP- controlled Legislature, whose proposed bill would limit public workers' ability to negotiate their benefits and working conditions and force them to contribute more toward their health care and pensions.
Boston Police Department officers were in attendance in order to ensure that the rally, which also included a smaller group of vocal anti-union activists and Tea Party members in support of the bill, remained peaceful.
The Massachusetts Teachers Association, along with many other local unions, helped organize the rally in just three days.
One of the first speakers, Richard Rodgers, the executive secretary treasurer of the Greater Boston Labor Council, helped to set the tone for the rest of the afternoon.
"This is about basic human rights," Rodgers said. "Their fight is our fight. We stand with them in solidarity."
The crowd responded loudly to Rodgers' speech with yells, chants and whistles.
Kathy Meltsakos of Groveland, who is an educational support professional and MTA member and works with special education students, said she was outraged by Wisconsin's bill.
"What they're trying to do in Wisconsin is wrong on so many counts," Meltsakos said. "I'm at the very bottom of the totem pole, so collective bargaining is crucial."
The majority of supporters at the rally agreed.
"What they're doing in Wisconsin should be illegal," said Dave, a crane operator and resident of Boston, who refused to give him last name. "Everyone should have the rights of representation in the workplace. They've been fighting for their rights in Egypt, now it's time to fight for ours."
Solidarity seemed to be the theme of the rally, with almost every speaker voicing his or her support of the protesters in Wisconsin. Those in attendance showed their solidarity as well.
"I'm here to support my local pipefitter's union 537," said Paul Caulfield of Cambridge. "Collective bargaining is a fundamental right of the people."
While some people in attendance were union workers against the Wisconsin bill, others had close connections with Wisconsin residents.
"I'm a full blooded Wisconsin," said Mike Jacquet, a carpenter who now lives in Boston. "I have friends and family who are being affected by these cuts. My heart goes out to them, and I am so proud that they are standing up to the governor."
Several congressmen were in attendance to speak to the crowd as well. State Rep. Edward Markey (D-MA) aimed attention at the Tea Party, whose members were across the street.
"The Tea Party defends the millionaires, the union defends the workers," Markey said.
Paul Toner, president of the MTA and a Boston University alumnus,said he thought that the rally was successful. "This is about people standing up and speaking out. This is all about giving people a right in the workplace," Toner said. "In Wisconsin, Gov. Walker is trying to take that away."