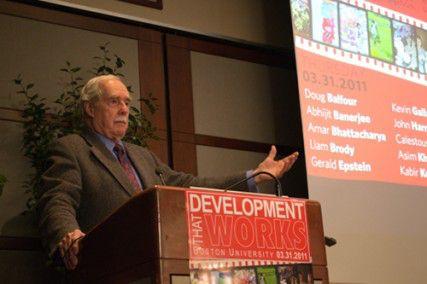 Boston University students, graduate students and professors of economics and international relations discussed the importance of looking past the obvious layers of development economics such as healthcare and education to more important factors of development policy including social enterprise at the School of Management on Thursday.
Titled "Development that Works," the conference featured scholars and leaders known for their work in sustainable development.
"The conference is a way of getting conversations started that link practical development work with academics, and show that this [link] is possible," said Adil Najam, the director of the Pardee Center for Study of the Longer-Range Future.
The conference focused on various aspects of international development, including development policy, social enterprise and economic development.
"I've read a lot of the speakers' papers and it's fascinating to hear what they have to say in person, and hear their different perspectives," said Amrita Singh, a freshman in the College of Arts and Sciences.
Speakers focused on successes in development work and what could be changed.
"It's very hard to beat giving away money. Nobody wants development-related goods at the market price," said Abhijit Banerjee, a Massachusetts Institute of Technology professor of economics.
Banerjee said the emphases on health, education and market failure are important factors in development, but other considerations need to be made.
Asim Khwaja, a professor of public policy at the Harvard Kennedy School, said it is important to understand the roots of development.
"I'm in the global economic development program and am interested in how theories and real practice can be brought together," said Yan Huang, a graduate student College of Arts and Sciences currently studying development.
"Conferences such as this one serve to broaden students' horizons."
Han Ye, a BU graduate student of economics, said the conference provided him with a unique perspective.
"I'm from China and am concerned about development issues," Ye said. "The guests were all from different fields and have famous papers."
"It's a great opportunity for [International Relations] students as it focused on sustainable development," said GRS student Ellie Perkins. "The discussion on the role of social enterprise and the private sector was very interesting."
"There [were] comprehensive points of view, and it was good to hear not only the theoretical side, but people who practice it and make a career out of it" said Orsintha Ra, a graduate student at Northeastern University.
"I'm fortunate in my life and feel like I have the capability to give back to the community," said CAS senior Smaro Panagiotidou.