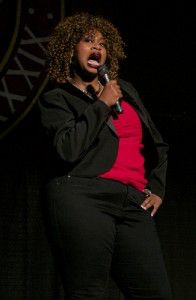 "Is you OK?" asked Internet sensation GloZell Green to an audience of about 300 people at Boston University on Monday. "Good. Because I wanted to know."
The Student Activity Organization invited GloZell, who has posted more than 1,000 videos on YouTube.com, to host the Excellence in Student Activities Awards in Metcalf Hall and to help them recognize leaders from student groups across campus.
"Most people know me from YouTube videos. Everywhere I go it's all about that ketchup girl," GloZell said, referring to singer Kesha. GloZell's video critiquing Kesha's song "Tik Tok" has nearly 4 million views.
In a phone interview with The Daily Free Press, GloZell said her career began a little over two years ago, when she started blogging about Jay Leno.
Though GloZell studied to become a pharmacist at the University of Florida, she said she was always drawn to entertainment.
"By the time I got to University of Florida, I was like, 'okay let's be real with this – there's no way I'm going to be a pharmacist," she said.
To be a Youtube sensation, Glozell said it takes persistence, a lot of videos and the ability to be funny on a lot of diverse subjects.
"The number one thing is to do what you want to do and enjoy yourself," she said. "A lot of times people tell me 'I want to start a channel but I don't know what I want to do' and you have to ask yourself: do you want to just be famous?"
She also said an aspiring performer must really enjoy what they are doing because there are negative aspects to fame.
"You got to either not look at the comments or be strong enough to not take it too seriously."
While many students said they came to hear GloZell speak, other said they were excited to see student groups recognized on campus.
"Anyone can nominate members of student groups and we look through the nominations and then the professional staff chooses winners based on our recommendations," said Alex Shuck, a senior in the College of Communication and the activities coordinator of the SAO.
After a performance by BU on Broadway and a few minutes of stand up comedy by GloZell, SAO staff members took the stage to announce the recipients of awards for student leaders, groups and advisors.
Students and student groups are nominated through You Do, a part of the SAO's online resources, said Melissa Grove, a Boston College graduate student who works for SAO.  While the SAO staff chooses most of the awards winners, students who vote online choose the winner of the Terrier's Choice Award.
This year's Terrier's Choice Award went to BU Ballroom Dance Club for their event, "Dancing with the Professors."
Being in a student group is often a thankless job, said Sara Keimig, a junior in the College of Arts and Sciences who works in SAO. "We just want to thank everyone for their hard work."
COM senior Justin Touchette thought of the idea to bring GloZell, said CAS senior Yelena Kerdman. "It's the first time we've had someone this big. It's usually pretty low key."
After K-Soul, a male a capella group, performed two songs in the middle of the ceremony, GloZell said she would love to work with them.
"Maybe we can work together on some food like a fried chicken spring roll," GloZell said.
Joking aside, GloZell commended BU for its student activities. "You guys are an awesome school with awesome groups," she said.
John Battaglino, the executive director of student activities, presented Spectrum, a queer and allied student group, with the Program of the Year Award for its program, The Monster Drag Ball in October.
Dean of Students Kenneth Elmore presented the final award, Organization of the Year.
Elmore thanked the SAO and invited all the groups nominated for the award to come on stage before he announced that the Women's Resource Center won the award.
"This completely student-run center that provides a welcoming space to all students…immersed themselves into the BU community, providing support for all BU students," Elmore said.
"We're all really happy," said CAS freshman Alessandra Goodfriend, activism coordinator for the WRC, in an interview. "It's reassuring to know that there's actually a need for the work we do."
In addition to GloZell's comedy and performance by student groups, Goodfriend said the best part of the evening was "being with our groups, celebrating."
In some closing remarks, GloZell poked fun at Elmore for his use of social networking website, Twitter.
"He tweets all day long," she said. "Have you read his tweets? 'They're like, 'Oh, I just got up, I'm putting on my bowtie.'
"I love him on Fresh Prince," Glozell added.
Staff Writer Saba Hamedy contributed to the reporting of this article.