Most rocks stars are arrogant – and we love it. Our idolization of musicians deludes prima donnas into believing their nightly spotlights are, in fact, divine light. This enlightenment encourages outrageous outfits, dances and behavior, which audiences feast on.
Yet, when an artist breaks this trend, an unexpected wave of refreshment rolls over the listener. On her current tour, Christina Perri and her band are indeed, fresh. Perri's relatively recent entry into the public eye keeps her enthusiasm, emotion and geniality raw – all demonstrated at her July show at Boston's Paradise Rock Club.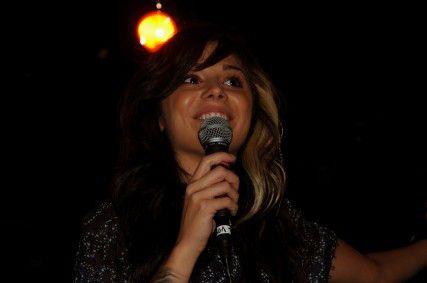 The Perri clan's enthusiasm shone immediately with drummer Elmo Lovano's sprint on stage to warm up the crowd, delightfully twirling his arms and eyes to orchestrate a rousing audience request for the rest of the band. Darting on stage herself to the beat of "Bang Bang Bang," Perri happily bounced as she strummed to this deliciously vengeful piece. Lovano mirrored this enthusiasm on his kit as his flailing arms, ebullient personality and creative fills mirrored that of Keith Moon.
Even when slowing down for "Daydream" and "Black & Blue," the energy remained, in Perri's intonations of lyrics, in her body language and in her sways on stage. Whether this vigor derives from the powerfully disappointing love that drives many of her pieces or simply from her excitement to be on stage, only Perri can know. But the enthusiasm fires the audience and enlightened a surprisingly mixed demographic of spectators.
This energy amplified the band's already palpable emotion. Perri's feelings are visible when her face contorts with raw feeling, but are also evident in her blunt lyrics. Instead of escaping into impenetrable lyrics, Perri states exactly what she's feeling, especially in pieces like "Bluebird" and "Distance."
In the latter, Perri animates the internal dilemma between preserving the thrill of a new love or deepening the relationship – and losing some ecstasy in the process. It's a familiar, but arduous decision to articulate, but Perri expresses it concisely, yet eloquently, in singing, "And I will make sure to keep my distance/Say "I love you" when you're not listening/How long can we keep this up?"
While some could critique the lyrics as simplistic, Perri's sensitive delivery proves she's anything but. Sometimes, you just have to see it live to believe it.
The emotion that occasionally slips onto guitarist John Anderson's otherwise stoic chisels is particularly charming. Anderson's face also twists when his solos hit emotional highs as if he's invested in the music too, and his chemistry with Perri suggests this same connection. One of the most memorable moments of the Paradise show came in Anderson and Perri's acoustic duet on "Penguin." On this "mushy, gushy love song" about "the first-time-you-kiss kind of love," the two became inseparably close and the energy that pulsated between them was "sigh worthy."
But what distinguishes Perri most is how personable she is. The Paradise Rock Club is a small venue, but Perri attempted to further connect with her audience. As honest as her lyrics flow, Perri explained the whole back-story of "Jar of Hearts," a song about "a guy she never should have been with," but the very one that blasted her to fame. This, along with singing directly to audience members and a genuine opening of arms during her closing "Arms" demonstrated just how much she wants to connect with her audience. As she said in a recent Paste Magazine interview, "I just want to meet everybody. I want to go to every town and meet every human being."
All this effort, emotion and amiability are evidence that Perri is appreciative to be on stage. Her recent appearance at the Outside Lands Music and Arts Festival suggests that her profile is rising. Will her geniality last? If the way she clasps her lips in shock in response to rousing applause is any indication, Perri will remain a refreshing act for quite some time.