Last October, the No. 23 Boston University women's soccer team wrapped up a record-breaking season with a crushing loss to crosstown rival Boston College in the first round of the NCAA tournament, a heartbreaking ending to an impressive season.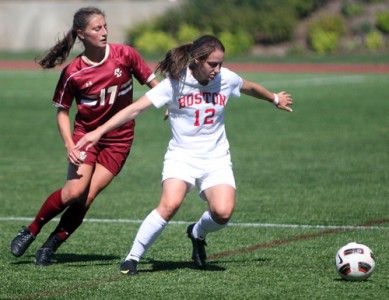 After losing nine seniors to graduation, the 2010 BU squad set a bevy of program records, earning the most wins and scoring the most goals in a single season. It swept every major America East award, and beat every conference opponent while maintaining a 13-game shutout streak.
This year, the Terriers opened their season against the exact same team that ended BU's campaign last year.  This time around, however, the Terriers were able to tie the Eagles, and have only gotten better from there.
Now six games into the season, the Terriers are on the hunt for their fifth consecutive AE championship and their eighth consecutive NCAA Tournament bid.
And with a record of 5-0-1, including victories against ranked opponents, the team is well on its way there. The undefeated beginning is the program's best start since 1996, giving BU a bit of confidence as they head into their final nonconference games and into the conference season.
"You start to feel good about yourselves when you win," said Coach Nancy Feldman, who recently earned her 300th career victory and is in the middle of her 18th season at BU. "We've gained a real experience at high levels. [We're] playing with speed, physicality against great teams."
The squad this year is comprised of a mix of both experienced veterans and younger faces, all of whom will need to make major contributions if the team hopes to continue to trounce the AE regular- and postseasons and move beyond the first round of the NCAA tournament.
The Terriers return both of their primary goalkeepers from last season in sophomore Kelly King and senior Alice Binns. Both were new to the team last year – King was a freshman and Binns transferred from William Smith College – and shared goalkeeping duties for most of the season, with King playing the first half and Binns handling the second.
The original decision that led to the split duties, Feldman said, is that both players were, "unproven out of preseason."
As the season progressed, however, that changed.
"It worked so we kept doing it," Feldman said. "Why do you shift if it's working?"
Through the six games the Terriers have played this season, the duo has continued to share time in net, albeit in a slightly altered arrangement. With the exception of the season opener against BC, the goalies have each played full games, swapping off game-to-game at the coach's discretion.
Joining Binns and King in goal are sophomore Andrea Green, who held University of Maine to a shutout in the 2010 AE Tournament championship game, and freshman Alyssa Parsi, who was named Tri-Valley Goalkeeper of the Year last season playing for her high school in California.
In front the array of goalkeepers will be tri-captain defender Lina Cords, one of three fifth-year players and a central part of the BU defense. Cords started 18 games last season, and came off the bench in one other game, earning herself a slot on the AE All-Conference first team.
Joining Cords on the back line will be senior Katherine Donnelly, a 2010 transfer from the College of Holy Cross, who fit right in by contributing in 22 games with 19 starts in her first year in Boston; and Michelle Kielty, whom Feldman called a "spiritual leader."
Additionally, sophomores Emma Caringello, Erin Mullen and Amanda Rumsey and freshmen Arana Aston and Kai Miller should see minutes on the last line.
Senior Tayler Nichols is also likely to split her time between defense and midfield. She appeared in 18 games in 2010, and was named the team's Most Improved Player.
Leading the midfielders are the two other fifth-year senior tri-captains, Brittany Heist and Tiya Gallegos. Heist has emerged as a team leader over the past two seasons after sitting out her sophomore year due to an injury. So far this year, she has played 404 minutes across all six games, taking 13 shots and scoring once.
Gallegos will be playing as a hybrid forward-midfielder. She was named to the AE All-Conference Second Team and scored the third-most goals for the Terriers last season.
Senior Krista Minito and junior Jessica Morrow played in 22 and 19 games, respectively, in 2010, and should help set a consistent tone between the forwards and the defenders.
Joining the four upperclassmen will be a group of younger players. One of the most notable is Kylie Strom, a sophomore named to the 2010 AE All-Rookie Team whom Feldman praised as being "motivated." Another sophomore, Emma Clark, played "a lot of minutes last year," according to Feldman, and did a "fantastic job."
Contributions can also be expected from sophomore Megan McGoldrick, who sat out last season with an injury to her anterior cruciate ligament, and freshmen Alejandra Diaz, Katherine Lim and Jamie Turchi.
The anchor of the explosive 2010 offense, AE Player of the Year Jessica Luscinski, is back and already scoring as if the last season never ended. The senior from Bedford, N.H. has scored an impressive three goals through six games.
Luscinski is "a great leader who leads by example," Feldman said.
Freshman Taylor Krebs has already proven to be a complementary asset, playing 287 minutes, and scoring three goals with four shots-on-goal.
Rounding out the front line is sophomore Madison Clemens, and freshmen Ana Cuffia and Dara DeMatteo.
Overall, with a strong core of returning players being paired with an infusion of new talent, Feldman has a positive outlook for her entire team.
"They genuinely get along," she said. "It sounds cliché for a team to get along on and off the field, but they do, and [that] makes them a heck of a lot better. They're willing to make the sacrifices to be cohesive.
"They don't make it a drama scene. They don't make it a competition within the team – it's fragile, but it's something you pay attention to so you can keep it going."