After having breakout years as members of the Boston University women's hockey team last season, three former Terriers have been drafted into the Canadian Women's Hockey League.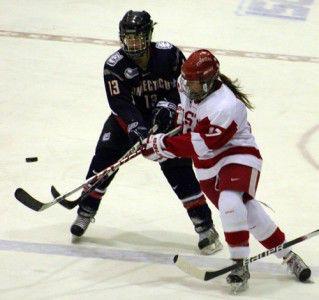 Defenseman Catherine Ward and forwards Jillian Kirchner and Holly Lorms each played integral parts in the Terriers' run toward the championship game and ultimately a second place finish in the NCAA.
"I think it's awful nice that there's an opportunity for them to play a little bit after they leave here," said BU coach Brian Durocher of his former players. "I think in a perfect world we would all love to have a national hockey league where they could get paid for their abilities but that isn't quite the case.
"If you get selected, if you get drafted to go there, it's certainly an indication that you are a recognized talent and all three of those young ladies certainly are that."
Ward, who played one season for BU as a graduate student, was the first of the Terrier triumvirate to be drafted into the league. The seventh overall pick, Ward was the top-ranked defenseman in the draft.
In her lone season as a Terrier, Ward racked up honor after honor from being named Hockey East's Best Defenseman to being the program's first-ever All-American. Ward was named the most valuable player for the squad because of her efforts.
"Obviously we were very fortunate, very lucky, to have somebody of her ability who certainly did what she did," Durocher said. "Throughout the year she shined with her defensive ability and her offensive ability and last, but certainly not least, her leadership.
"She was somebody who the team really looked up to because of her experiences and her ability and leadership quality."
The current holder of the single-season assists record (27), Ward was drafted to play for the Montreal Stars.
Kirchner, who was drafted 38th overall, will be trying out for the Boston Blades. In her final season as a Terrier, Kirchner acted as the assistant captain and set career highs for goals with 11, assists with 21 and points with 32. The Illinois native skated in every game from sophomore year on for the Terriers and had 103 points in her four seasons with BU.
"Jillian is somebody who probably every step of her life people questioned was she fast enough, was she big enough, was she strong enough, did she shoot the puck well enough," Durocher said. "I tip my hat to her… she was always very creative and very talented. Even in some of the tougher places to play she was fearless.
"She is a very accomplished player who will probably once again face the challenge of a very competitive Boston team which is going to have a lot of good players taking the challenge of trying to make the team," Durocher said.
As the captain of last year's team, Lorms rounds out the players drafted from BU at No. 55 overall. Lorms' senior season was a comeback year for her after being seriously injured in a game against the University of Maine when a clean hit left her with damaged ligaments between her fifth and sixth vertebrae.
In an effort that earned her the title of HE's Best Defensive Forward, Lorms, like Kirchner, established career highs in goals (14), assists (9) and points (23).
"Holly, I think, saved the best for last and had a wonderful senior year," Durocher said of his former team captain. "She certainly worked though all of the adversity with all of her injuries last year… There were times when some of the premier players went away to different tournaments and she always would step up when they were gone."
Like Kirchner, Lorms was drafted to the Blades.
"I think they both know that there are about 35 or 38 kids that are going to be trying out for that team and most of them are pretty well recognized here as college hockey players," Durocher said. "So hopefully they are up to the challenge and they get an opportunity and they enjoy another year here."