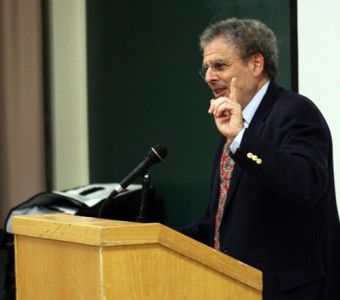 The standstill in negotiations between Palestinian and Israeli officials stems from fundamental misunderstandings of the opposite side, a speaker said in the College of Arts and Sciences on Thursday.
Author Bernard Avishai explored the stalemate between Palestinians and Israelis in steps toward a two-state solution in his lecture "Israel and the Emergence of a Palestinian State," to an audience of more than 100 people. J Street Boston, an organization for pro-Israel and pro-peace Americans, sponsored the presentation and The BU Elie Wiesel Center for Judaic Studies served as a co-sponsor.
"Avishai is the kind of person we want to see more of on campus," said Michael Zank, director of undergraduate studies in religion. "He follows a very good model of explanation, that of the long-term view, and knows both sides really well. We have to make sure that students see how good the quality of the discourse is."
Avishai, a former International Director of Intellectual Capital at professional services firm KPMB, has written about the Israeli-Palestinian conflict, most recently in his book "The Hebrew Republic." He focused on why both sides have come to an impasse in their conversations seeking a peaceful solution.
"The vast majority of the Palestinians regard the two-state peace as being something more than just an adjustment of borders, between settlers and refugees," Avishai said. "The Palestinians consider the right of return to be a fundamental matter of identity."
Avishai said that about 90 percent of Israelis believe that Palestinians aim to destroy the Israeli state and that they consider the right of return a "matter of ruin."
"I think that we need to understand something about the history that got us here, to understand why it is so important for the Palestinians and what they mean by their demand of return," he said. "We also need to understand what the Israelis mean by 'the state of Israel' and how crucial it is for them."
Palestinians see the right of return as synonymous with other basic Palestinian rights, Avishai said. Whether they are refugees or not, he said it is still important to Palestinians to be seen as citizens in their homeland.
"There is no way out of this confrontation, unless we begin to understand the federal arrangements that permit an Israeli-Hebrew entity and a Palestinian-Arabic entity, to be in reciprocal relation," he said. "Without these relations, there is no way out of this."
At the crux of the issue, however, is the realization that a two-state solution is simply the beginning, he said. Avishai calls the goal an invitation that will allow both parties to get what they want.