The buddy film is a keystone of American cinema. Patrick Goldstein of the Los Angeles Times once called the genre "a necessary escapist fantasy" because it allows men to unabashedly share their emotions, a phenomenon relatively unseen in reality.
Yet, for Seth Rogen and Will Reiser, friends since their work Da Ali G Show, their latest buddy film is, in fact, based on reality.  Sitting down with them in Boston's Four Season's Hotel, their affectionate rapport immediately epitomized the bonds central to buddy films; feelings were going to be shared.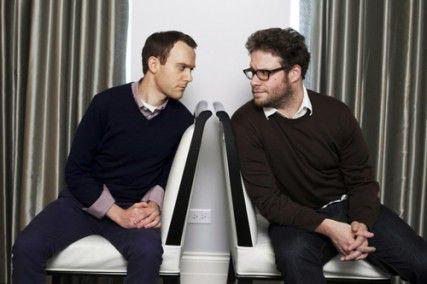 Q: So the script is based off your experience?
W: Inspired.
S: "Inspired" for legal purposes. I, however, can say, "based," he can't haha.
"50/50," Rogen and Reiser's latest, is "inspired" by Resier's battle with spinal cancer at the age of 25.
W: I mean I definitely had to deal with a lot of dysfunction in my life, part of it because of my own inability to talk about it and the pressure it put on people. There were so many people in my life who didn't know how to deal with it, who completely ran away.
Reiser's failure to communicate his more complex feelings didn't stop Rogen from driving Reiser to chemotherapy to changing his back bandages after surgery; it was just the code. And their silence on the severity of Reiser's cancer didn't stop either losing their inclination to comedy.
Q: How long did it take you to find the comedy in your situation after you had been diagnosed?
W: I think it was day two haha…I think everybody waited [until] I was the first person to make a joke about it…
S: Yeah, we made a lot of jokes behind your back [before] then…
W: When we were 25, we didn't really sit around and talk about our feelings, we just joked about everything…
S: That's what we wanted to show in the movie because Will still did go to bars, he still worked, he didn't just want to sit around and dwell on it…like it was really sad sometimes, but it was also really funny sometimes.
Thus, recreating this fusion of comedy and grief wasn't particularly difficult for the two friends. Rogen, in coproducing and "playing himself," didn't try to "create a persona," but rather attempted to remain as "natural and real as possible." For Reiser, who swapped his spot with rising star Joseph Gordon-Levitt to take screenwriter and co-producer credits instead, recreating the atmosphere was of paramount importance.
W: I think tonally it's exactly what we wanted… I just based it on what my own emotional trajectory was what felt honest to the character and to the movie.
S: I think it's better than we could've hoped, honestly. There are some sequences that literally, at the drop of a hat, go from being really funny to really dark and honestly, I was surprised at how quickly we were able to make those transitions back and forth.
Despite the ease with which Rogen and Reiser were able to mirror reality, both attempted to remain emotionally detached from the project to enhance its dramatic appeal. Rogen, in particular, departed from his buddy role to relentlessly scrutinize Reiser's script.
S: Me and Evan [Goldberg, co-producer, also of Superbad fame] are not an easy audience. We really are hard on the material and we go through every scene and say, "Why is this line here?" "Why the f–k is he doing this?" "Who would do that?"
W: So when it came time to shoot…those guys would push me… and then I would rewrite the scenes as we were shooting…
Reiser admits that Rogen's tenacious hounding was actually useful and not the harassment it seems.
W: It was so great because the scene that I'm most proud of is one that I wrote literally hours before we shot the scene [when Seth and Evan] were pushing me really hard.
S:  Me and Evan were screaming at him – with bull—-it advice haha.
Ah, the quintessence of a true "bromance": constant competition matched with uninhibited affection.  What a strong friendship. The makings for a movie.
"50/50" opens on Friday and stars Joseph Gordon-Levitt, Seth Rogen, Anna Kendrick and Bryce Dallas Howard. While I'm officially unable to give my opinion in this preview, I'd like to unofficially intimate that this is Rogen's finest yet and perhaps one of the best comedies of the year.