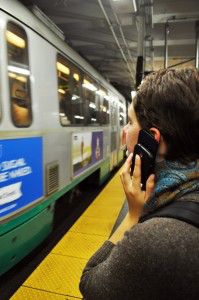 By the end the year, Green and Blue Line T riders can expect to talk and text with ease while in the underground tunnels, according to the Massachusetts Bay Transportation Authority.
"The underground Blue Line and Green Line to Kenmore, including nine more stations, are currently being installed," said Joe Mullin, the vice president of engineering at InSite Wireless Group, the Boston-based company building and operating the wireless service, in an email.
"We expect those stations and tunnels to be complete by year end, assuming no unexpected complications," he added.
InSite Wireless Group is scheduled to update the rest of the underground stations with cell phone service access next year.
This is the final step of the MBTA and InSite Wireless Group project conceived in 2004 to provide subway patrons with seamless wireless service along all 34 underground stations and 19 miles of connecting tunnels, according to the InSite Wireless Group website.
The 15-year contract with InSite Wireless Group aims to build and operate the infrastructure that provides cell and data service throughout the MBTA's tunnels to multiple cellular providers.
The contract is also forecast to yield the transit organization upward of $4 million, according to MBTA predictions.
While hardly a windfall in comparison to its projected debt of $161 million in 2013, this added income would also benefit riders in reducing the need for added service cuts.
Many Boston University students said they are excited about the prospect of cell service while riding the Green Line train inbound.
"That's great!" said College of Arts and Sciences junior Emma Brandon. "I've always wanted to use my phone while underground."
Upon descent underground, students and other riders would no longer lose cellular service.
"I think it'd be pretty cool," said Sargent College of Health and Rehabilitation Sciences senior Giulia Lais, about being able to make calls and receive texts while traveling on the MBTA.
Cell phone service was first made available in 2007 in the "subway core," comprised of the platforms at Park Street, Downtown Crossing, Government Center and State Street.
Since then, InSite has added service to the underground portions of the Orange Lines.