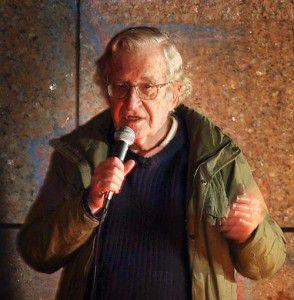 Renowned linguist and social activist Noam Chomsky expressed support for the Occupy Boston movement while cautioning protesters that change would take months or years to occur in a speech at the movement's headquarters in Dewey Square Saturday.
In the shadow of the towering buildings of the Financial District, hundreds of protesters gathered to watch Chomsky speak as part of the Howard Zinn Memorial Lecture Series.
"There has always been a gap between public policy and public will, but it has grown astronomically. You can see it right here," Chomsky said.
Chomsky said the Occupy Boston movement could be important in reversing the fundamental changes in the economic structure that he said began in the 1970s.
"If things continue like this . . . this historic reversal that began in the 1970s could become irreversible," he said. "And the Occupy Boston movements are the first real major public reaction that could avert us this. But it's going to be necessary to face the fact that it's a long hard struggle."
Chomsky explained how the U.S. economy has developed since the 1930s, turning from a worker-based economy into one that is controlled by corporate interests.
He also said that the pessimism with which many people perceive the economy today is unique in American history.
"[During the Great Depression] there was the sense that we're going to get out of it," Chomsky said. "It's quite different now. Now there's a pervasive sense of hopelessness and despair. I think it's quite new in American history."
Chomsky also advised the Occupy Boston protesters to band together and to work on developing a list of goals, even if they didn't necessarily agree on all of them.
"You can't do this or anything else unless there's a large active popular base," he said.
Although he said he believed the movement had the potential to initiate changes in the country's political and economic system, he warned protesters that these changes would not come easily.
"It's not going to be easy to achieve. There are going to be barriers, difficulties, hardships," he said. "But unless the process that's taking place here and in the rest of the country and around the world, unless that continues to grow and becomes a major force in the social and political world, the chances for a decent future are not very high."
Some attendees said that Chomsky's appearance was a positive contribution to the movement.
"What we can get out of him is a lot of depth, and he's one of the best minds around right now that's been thinking about these issues and engaging in the better part of the half century," said Daniel Hawkins, 26, who said he is "tangentially" involved in the Occupy Boston movement.
Occupy Boston protester Kevin Green, 27, said Chomsky is a hero to a lot of people.
"It was good for the movement because Noam Chomsky is one of the most important intellectuals alive, probably the most important intellectual alive," Green said. "He's fought for issues of social and economic justice his entire life and he not only writes books and gives talks but he comes down and is a part of the struggle."
Green said Chomsky's appearance drew a new audience to Dewey Square.
"It was great to have a lot of people who came here just because they wanted to see Noam Chomsky, but then had conversations with other people, made some connections, made some linkages, really got something else out of Occupy Boston," he said. "He attracted a lot of people who might not have otherwise came up but might come down in the future."
Staff writer Megan Riesz contributed reporting to this article.