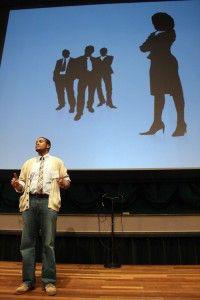 College of Arts and Sciences junior Tarif Ahmed said that after suffering from depression his freshman year and taking a semester off from school, his connection to music improved his condition.
"I hope you can see this album did something to me," Ahmed said to an audience of about 250 Boston University students, alumni, parents and faculty. "It can enrich your life."
Ahmed was among the 16 speakers at "BU Inspire: A Call to Arts" on Sunday from 1 to 5 p.m. at the Tsai Performance Center. Hosted by the Howard Thurman Center, the conference was the first in the new BU Inspire series.
The series is acting as an extension of the TedX talks that took place at BU last year, said HTC ambassador Julianna Parra, a CAS junior.
"[TedX] was kind of like all different kinds of topics, as opposed to this one," Parra, a CAS junior, said. "BU Inspire is more of BU's event – along the same lines [in] branching off of TedX, but also for this event, it's focusing on art."
Each attendee wore a nametag listing his or her favorite piece of art, ranging from classical paintings to contemporary songs. The nametags were intended to act as conversation-starters during the 30-minute intermission, where both guests and speakers intermingled and discussed art-related topics in the lobby of Tsai.
A white canvas, colorful paper squares and dozens of markers sat outside of the auditorium. Before intermission, Robert Guillemin, also known as Sidewalk Sam, invited the audience members to create their own art with these paper squares. They created messages such as "LOVE = ∞" and "Breathe in peace breathe out happiness."
Sam said that the squares, which were saved, will become a mural to the HTC to hang up.
BU Inspire also held a presentation about the art of tattoos, led by CAS junior Tino Bratbo, as well as a session of spoken word poetry by BU alumnus and former Speak for Yourself President Francis Pina. Other BU alumni, as well as student groups, BU officials and local artists presented about various aspects of art, including paintings, music and technology.
Billy Andre, a BU alumnus, introduced neochoreometry, which he described as a new method to preserve cultural dances using gaming's concept of motion tracking.
"If a picture is worth a thousand words, then dance is worth a culture's lifetime," Andre said.
The process, Andre said, will "solve [the] problem of not knowing how to appreciate dance [of other cultures]."
Matthew Brand, principal of Zintaglio and research scientist at Mitsubishi Electric Research Labs, displayed hand-made holograms and spoke about knot theory in his presentation about technology.
By holding the conference, HTC aimed to have people from BU and throughout Boston connect through something as common, yet diverse, as art, as a way for people to explore their passions, said HTC ambassador College of Communication junior  Eric Baker, who helped organize BU Inspire.
Sidewalk Sam said the event helped to bring people together.
"I felt like I was speaking to brothers and sisters, to grandchildren, to sons and daughters," Sam said. "I felt very empathic, and I felt close to people."