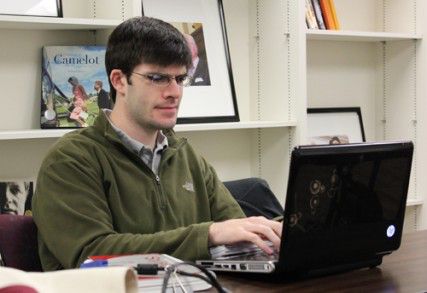 When College of Communication graduate student Scott Flaherty first learned about Study Abroad's Washington, D.C. Journalism Program, he said the program's suspension in 2009 made him initially doubt its merit.
"Because of that, the organization of it was a little sketchy at first and we needed to rely on ourselves for the first few weeks while BU was still hiring a director and everything," Flaherty said.
Flaherty, who is participating as a program fellow this fall, said that his experience with politics and his internship in D.C. proved to be a valuable experience.
Like Flaherty, some students also expressed skepticism over the D.C. program due to the suspension in recent years, but said the experience ultimately gave them exposure to politics and career opportunities that could make them more marketable to employers.
The program's director, Denise Baer, said the program established in 1976, is recognized as one of the older and more established educational programs compared to 60 to 70 other in D.C.
Students from BU involved in the program undergo an "inside the beltway" experience that shows them how government and news outlets work, she said.
"In D.C., many jobs are filled by individuals who have interned in D.C., and prior knowledge of D.C. is almost always a prerequisite to employment," Baer said.
In December 2009, the journalism program was suspended due to low enrollment, she said. Before launching again this fall, the program underwent restructuring based on recommendations by an associate professor of journalism, Nick Mills.
A few days before the October deadline for the Spring 2012 program, the Study Abroad office extended the deadline to Nov. 1, according to a press release.
Baer said that the deadline was extended because they could then provide another chance for students interested in the D.C. program to apply.
"We do on occasion extend deadlines where we have internship or newsroom placement opportunities that we think are of value to BU students," Baer said. "We are student focused."
Program fellow Jamie Webben, a graduate student in COM, said the D.C. program has, in some ways, exceeded her expectations about the semester abroad.
"The opportunity to cover politics in our nation's capital was definitely the most appealing aspect of the program," Webben said. "I was also compelled to come to D.C. because I have lived here before and feel like it is a thrilling and inspiring city. It has definitely been hard work and, at times, intimidating. However, I know in the end participating in this program will pay off and it will be an experience I cherish for a long time."
COM graduate student Lisa Kaczke, another fellow this fall, said that she had planned to study abroad in London, but decided on the D.C. program.
"I've been interested in political reporting and was able to switch to Washington. . ." Kaczke said. "In hindsight, I've had a great experience covering Capitol Hill and working with my newspaper, while accumulating good stories that I can use to apply for jobs after I finish in December."
Flaherty, who is currently searching for a job, said that he believes his experience in the program will make him marketable to employers.
"We'll see how it helps when I start hearing back from potential employers," he said, "but I think it's going to be something I can point to in job interviews as a special experience."