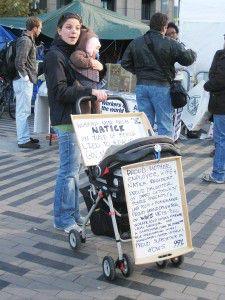 Ida Keir persuaded her daughter to switch from a "corporate bank" to a credit union in honor of national Bank Transfer Day on Saturday to protest corporate greed.
"I'm here because I wanted to support [the protesters]," said demonstrator Ida Keir, who has kept her money away from "big banks" for many years, even after moving from New Hampshire to Massachusetts. "I'm so excited to see people speaking up and changing the conversation."
Keir and about 50 other Occupy Boston activists called for the movement of money from large banks and into small banks or credit unions during a march through the Financial District on Saturday morning.
Protesters rallied to show unity with the national Bank Transfer Day movement.
Activist Kristen Christian of Los Angeles created Bank Transfer Day after being fed up by the business practices of large banks, listing unnecessary fee increases on her Facebook page. More than 58,500 Facebook users "liked" the group by early November.
About 650,000 people joined credit unions in October, transferring about $4.5 billion to credit unions throughout the country, according to a Credit Union National Association press release.
Credit unions are so attractive because they are small and dedicated to members, said Paula Kerwin, assistant vice president for business development and marketing at the Massachusetts Federal Credit Union.
She said that credit unions are non-profit financial cooperatives, and unlike corporate banks, which must yield profits for shareholders, the members of a credit union are also the owners.
"Any money we make goes right into the credit union, which is how we offer the rates that we do," Kerwin said. "We're all about the members."
Meghann Sheradon, of Boston, said that after she opened an account at Sovereign Bank, her relationship with the bank quickly grew sour when no one told her it would take about a week for her new checks to clear. She said when one of her checks bounced, the bank only reduced the fee by $20.
"I was kind of sick of them when I first opened the account," she said. "I got tired of random fees, and I canceled as soon as I could."
By joining a credit union, a person could save about $70 per year in fees, according to the CUNA.
Adam Tierney-Eliot, of Natick, marched on Saturday with his wife and three sons.
"We've been at a local bank for awhile, and you know everybody, people know you," he said. "With larger banks, you're on the phone, it's very corporate. You can't sit down with people."
The official Occupy Boston Twitter account announced a spontaneous march through Boston later that afternoon, again in opposition to corporate greed.
From their camp at Dewey Square, more than 60 protesters marched toward Newbury Street.
They garnered a police contingency to control traffic. Some protesters who did not welcome police said, "From Oakland to Greece, disarm the police."
Volunteer Maggie LisaVunk said she was not critical of police presence.
"Even the police are doing a job, they're feeding their families," she said. "Even though that means they have to be bullies for the one percent."
Once they reached the Prudential Center, occupiers began a sit-in inside the building, blocking the hallway adjacent to the Terrace Food Court.
About 15 minutes after the sit-in began, demonstrators were informed by security that unless they moved, they would be arrested for trespassing on private property.
After leaving the Prudential Center, the protesters marched down Huntington Avenue, stopped traffic and sang the Beatles song "Revolution."
At Occupy Boston's general meeting after the march, Occupiers said that it is important to use credit unions instead of banks. The Occupy Boston movement itself uses the Liberty Bay Credit Union.
The meeting also introduced the formation of an alternate banking group to research other options for financial management besides corporate banks.
"We've been disempowered and enslaved for so long that we don't know what we're capable of," LisaVunk said.
She said that the movement is about the public rediscovering what power they have, especially in non-violent ways.
"We need to learn to play nice with other children," she said.