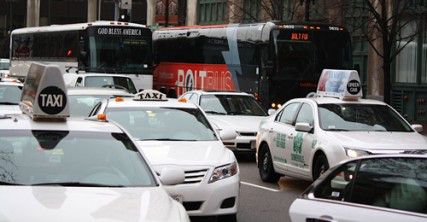 Travelers riding home by bus over Thanksgiving weekend could let go of their transportation woes and travel more safely on wheels.
According a study released by the National Transportation Safety Board in late October, despite the danger of driver fatigue and unclear regulations, transit by bus does not pose many risks.
The six-month study was conducted as a response to a series of motorcoach bus accidents earlier this year, including a March bus crash in the Bronx, N.Y., that killed 15 people and injured 18 more.
All types of interstate motorcoach services are safe overall, according to the NTSB. Accident fatalities occur more often with passengers of other vehicles than with bus occupants in the motorcoaches, according to the study.
Joan Libby, the principal and owner of Boston-based bus company Cavalier Coach Trailways, said that buses must go through different stages of federal and state inspections yearly and are regulated by the state Department of Public Utilities.
"I really do believe motorcoach travel is very safe. There [have] been a few accidents recently that have been very sad," Libby said. "But overall . . . we carry more passengers than the airlines do in the course of a year."
Many Boston University students said that they chose to travel by bus this Thanksgiving break.
College of General Studies freshman James Chiang said that purchasing bus tickets is easier than buying airline tickets when he went home for Thanksgiving break with his friends.
"We thought . . . we don't really need to [fly] when you can just take the bus," Chiang said. "And it is 31 bucks round trip."
One of the safety issues that the NTSB has identified as "a contributing factor to fatal motorcoach accidents" is driver fatigue.
"Bus driver fatigue is being looked at in detail," Libby, director for the Massachusetts Bus Association, said.
She said that bus drivers could drive for 10 to 15 hours per day, with a mandatory eight-hour break. Many drivers, she said, tend to go out at 9 or 10 p.m. and drive all night.
"By doing that, you're taking the normal time blocks that's in every human being, and you're throwing it off," Libby said. "And that's when [I] believe you'll see a lot of driver fatigue."
Students traveling home for Thanksgiving break should be safe, and if students go with a reputable company that has a good inspection grade, then "there should be no issues at all," Libby said.
Newer bus companies, according to the NTSB, tend to be more prone to accidents and higher violation rates.
College of Communication sophomore Shelby Carignan said she frequently travels by bus to her hometown in Maine and has never felt unsafe with conventional bus carriers.
Despite having only traveled with the conventional bus carrier Concord Coach Lines, she said she would probably still travel with the "really sketchy" and "dirt cheap" buses that run between Chinatowns in Boston and New York.
"The idea of going with a cheaper carrier like that is definitely a little scary," Carignan said. "And knowing that accidents happen more often with cheaper buses, I'd definitely feel better about using a cheaper bus if they were to implement the regulations suggested."
Death rates tend to be lower with conventional bus carriers, according to the NTSB.
The fatal accident rate for curbside companies between 2005 and 2011 was 1.4 per 100 vehicles, versus 0.2 per 100 vehicles for conventional companies, according to the study.
Mike Costa, manager of Boston-based bus company A Yankee Line, Inc., said that he thinks it is safer to travel with a conventional carrier than a curbside one because conventional carriers' terminals must have insurance coverage.
Costa said the terminals provide a higher quality of service by not forcing passengers to wait in the rain or cold for their ride.
Costa said that especially over the past six months following the unfortunate accident in the Bronx, local, state and federal inspectors have ramped up inspections. With A Yankee Line, Inc., the number of motorcoach inspections has increased six times since last year, Costa said.
"Although the amount of inspectors may seem low, they do have the ability to efficiently inspect thousands of motorcoaches through road-side inspections on a regular basis," he said.
Costa said that there is a difference between affordable and cheap service.
"Remember, affordable or inexpensive transportation is always much better than cheap service," he said.