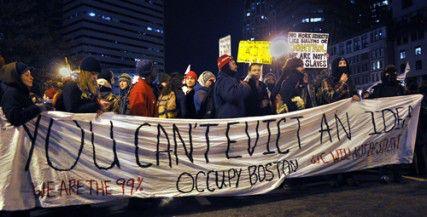 After obtaining the legal right to evict Occupy Boston protesters from Dewey Square, the City of Boston set a deadline – Thursday at midnight – for the activists to evacuate their campsite. The city waited until early Saturday morning to act, officially ending what had been, according to Occupy Boston, "the longest continuous occupation in America."
A Farewell to Dewey Square
Before the sun had risen over Boston's financial district early Saturday morning, Occupy Boston protester Duncan MacKenna awoke suddenly.
"I woke up at 5:30 [a.m.]," he said. "The chief of police was banging on my tent and telling me to get out."
That morning was the last time the 25-year-old Occupy Boston protester would wake up in a tent pitched in Dewey Square.
Police swept through the camp at about 5 a.m., waking sleeping protesters up and asking them to pack up and leave.
They arrested 46 activists, said Boston Police Department spokesperson Eddy Chrispin, most of who "will be charged for trespassing and resisting arrest."
"I got out of my tent as soon as I got dressed and I headed over," MacKenna said.
The police, he said, told him, "'You don't have to get arrested – you can walk away and make it easy on yourself.' I said no thank you, I believe in my right to be here."
MacKenna said he linked arms with the other protesters and thought, "I have to be there. I have to be standing in solidarity with my friends. It was not a question, it was 'I must.'"
A few hours later, Dewey Square was void of any activity. On Saturday afternoon, about 12 police officers stood behind freestanding barricades that encircled the empty park.
The owner of the publically owned, but privately maintained park, the Rose Fitzgerald Kennedy Greenway Conservancy, had just laid out a new layer of sod earlier, said a BPD officer leaning on a barricade.
The soil lay flat and dark where a day ago there had been an encampment of tents, signs and bundled-up demonstrators.
"The park put down all new sod, planted some trees," said an officer at the site, pointing to a strip of park alongside Atlantic Avenue. "A lot of bushes and trees were ruined [by the occupation]."
Occupiers, although optimistic about the future, said they have not been able to rebound in the same way that the park has.
"It will be a challenge in that having a physical space was great for outreach. [The encampment] could take someone who didn't identify as an activist and turn them into an activist in just one visit," said Farhad Ebrahimi, who was arrested Saturday morning.
Peaceful activism prevailed arrests 
Occupy Boston members at Dewey Square Thursday night said they were expecting "tear gas" and "pepper spray" to be used by police during an evacuation to enforce the midnight deadline, but officials did not take action to remove protesters.
More than 1,000 protesters gathered Thursday night in Dewey Square in anticipation of the midnight evacuation deadline set by Menino.
Mark McMahon, a student at the Northeastern University School of Law, said some demonstrators prepared themselves for possible tear gas and pepper spray by carrying vinegar.
"Vinegar counteracts tear gas," he said. "Vinegar is a base and tear gas is acidic, so it will neutralize."
There was a media presence surrounding Dewey Square, with ABC, CBS, FOX and CNN television crews in attendance. Some said they believed this granted the protesters additional protection from the police.
"With the media out here, the police might not be as bad and might learn something from the other situations," said Shane Neumeyer, a protester at Occupy Boston.
Legal observers from the National Lawyers Guild dispersed themselves among the demonstrators, distinguished by their bright green hats and T-shirts.
"I am going to simply observe interactions between the police and the people here," said Melissa McWhinney, a legal observer.
McWhinney said she did not anticipate violence, but would watch closely if it took place.
"I will make careful notes," she said. "I will not interfere, but I will witness."
McWhinney, a lawyer, had volunteered to be a legal observer 10 minutes prior to being interviewed.
There was live music and singing throughout the encampment. A trombone band led a parade through the crowd, playing 'When the Saints Go Marching In,' as well as other ragtime pieces.
At 12:15 a.m., Boston Public Works employees began loading tarps and trash from the camp into a garbage truck.
Protesters flooded into Atlantic Avenue, blocking all traffic, despite police attempts to keep the street clear. An impromptu dance party ensued, and Boston police closed off the blocked section.
On Thursday night, two protesters were arrested and charged with being "disorderly person[s] disturbing the peace," according to a spokeswoman for BPD.
No Man's Land
Before Thursday night's gathering, the mood was somber in Dewey Square.
"Ain't no campsite gonna keep us down," said Theresa Earle, an activist at Occupy Boston, as she, and other occupiers, began to pack up their tents on Thursday afternoon in preparation for the rumored police intervention that night.
"It might be the end of the Occupy at Dewey Square, but it's only been two months – it's just beginning," Earle said.
As occupiers disassembled tents, rolled up tarps and cleaned up in preparation to evacuate, they saved food and other supplies for local homeless shelters.
There were shouts of occupants asking one another for help, "mic checks" to call order and vehicles to tote away material.
Ellen Fine, an activist from Needham, said the ideology behind Occupy Boston is "absolutely not" over. She said protesters are even more "fired up and stoked" than ever before.
Fine said even though the physical encampment in Dewey Square may disappear, Occupy would continue to inspire.
"Anytime there's an idea about Occupy, there's Occupy," Fine said.
Kyle Forrester, a junior at the University of Massachusetts Boston, said although Occupy Boston outlasted other Occupy movements around the country, the demonstration is not a competition.
Forrester said the movement has been peaceful since the City of Boston's eviction notice, but people are still "pretty upset."
Occupy has created a physical political climate for those who want to voice their opinions about the government, he said.
"The spectacle of it draws in so many people," he said. "It's crucial to defend such a unique phenomenon."
Forrester said for the Occupy movement to continue, protesters need to make their plans in legal meeting places where police are not allowed to intervene.
"You can't evict an idea" 
At a General Assembly meeting at the Boston Common Band Stand Saturday night, a group of occupiers met to discuss where the movement would go now that, according to Chrispin, protesters will not be allowed to live in any public spaces.
Most of the 300 activists at the meeting – decked out in hats and gloves and bouncing every now and then to ward away the cold – said they wanted to speak about concrete plans for the movement's immediate and distant future.
Following the eviction of Dewey Square, "there are those who don't have anywhere else to go. Some of our folks are people who are not from Boston. We have followers who came from as far as Florida to stand in solidarity with us," said protest chaplain Andy Coate.
About an hour into the meeting, the protesters split into smaller groups to discuss the future of Occupy Boston. At the 'What to Occupy Next' group, protesters stood in a clump, airing ideas that focused on occupying foreclosed homes.
"Over the past two weeks we have been specifically looking at the occupation of foreclosed homes, and every time this comes up, people seem to like it," said one activist.
The group debated the possibility of setting up camp in a foreclosed house, or, perhaps, a closed school, possibly one in Mission Hill.
One activist said that setting up a new encampment would be best, to represent the movement's staying power and, more simply, to house the people who had been living in Dewey Square. Another protester said, "considering how cold it's getting, we should use the resources that we have to find some kind of indoor heated location."
Some demonstrators said they agreed, but thought they should not pay to own anything.
"I have never felt so hopeful in my entire life," one protester shouted to the people gathered around the rotunda in the Common.
The rotunda echoed with the responding chants of, "Evict us, we multiply – Occupy will never die."