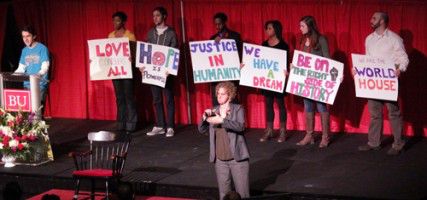 Graduate School of Arts and Sciences student Josh McDonald stood in front of a crowd of about 1,000 people and played his
trumpet in an ensemble, as part of the Annual Commemoration of Martin Luther King, Jr. Day. His connection to the Civil Rights leader stems from the day his father and grandfather marched and got arrested in the Selma-to-Montgomery demonstration.
"I have a connection to Dr. King that goes deeper than most people's," McDonald said. "My dad was there at a really pivotal time. That's something . . . that I wish I had the chance to do when I was in college."
The commemoration, held in Metcalf Ballroom on Monday afternoon, had a theme of "Manifest Your Destiny." Students, professors and locals explored not only King's accomplishments, but also what lessons students can take from his legacy in 21st-century America.
"We're not just reliving history, we're making history," said Howard Thurman Center Director Katherine Kennedy, the annual event coordinator.
Kennedy said the program strives to keep King's lessons alive by making his story relevant to today's world.
Dean of Students Kenneth Elmore emceed the commemoration and told the audience of his mother's guidance, who told him to "Go on out there [and] do some good."
Elmore presented a number of students and faculty members who spoke about their experiences with the King legacy.
College of Arts and Sciences sophomore Shamoore Simpson spoke of how to bring people together, comparing the world to a canvas comprising various images and words.
"People fail to realize that it's the differences that bring us together," Simpson said. "If you have a legacy, it's through the people [with whom] you connect."
Ruha Benjamin,  an assistant professor of sociology, asked the audience to reflect on why people haven't seen more progress. The more insidious assault, she said, is of our indifference and the fear of being different.
Benjamin told the audience about her father's stroke, which paralyzed one of his limbs and led to him re-learning how to use it again. She compared her father's stroke to society's paralysis and said people rely on using the functioning limb rather than the paralyzed one when they want to heal. Overcoming the paralysis, she said, would help people create new initiatives for social change.
"We can remain paralyzed and frustrated or remap the collective circuits [in our brains] to heal and move forward together," Benjamin said.
CAS senior Kemi Alabi , president of Speak For Yourself, performed three speeches and a fight song, which received standing ovations. Alabi prefaced her performance with a reference to the idea of "silence" and music in her poetry, a kind of silence she said people do not know how to fill yet.
Following the performance, College of General Studies sophomore Lili Wondwossen  spoke of her experiences in London and the countryside of her hometown in Ethiopia. The perspective gained from traveling the world can inspire change, she said.
Stefan Jones, a senior in the College of Fine Arts, read a statement on people who are weary on what to do with their lives, which received laughs from the audience.
"Get over it," Jones said. "Decide what you're going to do and do your best. We can no longer accept mediocrity."
During the hour-long celebration, a band provided a soundtrack in hopes of propelling both the emotional response of the audience and the speakers into new territories, McDonald said.
CAS sophomore Lauren Anson, a Martin Luther King scholar, said the commemoration delved beyond the history they have learned about King and inspired them to question what future impact his legacy will have.
"A lot of [traditional memorials are] just kind of like . . . history we all learn all through elementary school," Ansong said. "And here, it's more like a celebration, a challenge to do better, a challenge to really think about his ideals and how we can apply them to our lives today."