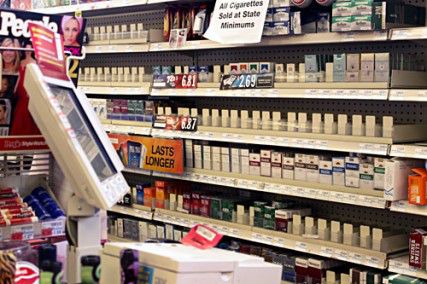 Smokers near Brookline can expect to cut down on cigarettes as the town prepares to officially remove tobacco products from drug stores and healthcare institutions.
This could affect Boston University students who currently purchase tobacco products from the CVS/pharmacy stores on Commonwealth Avenue, both near BU's College of Arts and Sciences and West Campus.
Last November, Brookline's Board of Selectmen unanimously passed a bill that would prevent specifically defined "health-care institutions" from selling tobacco products.
Alan Balsam, the director of public health in Brookline, said the bill will pass to the attorney general, who will likely approve it in February.
The proposal defines healthcare institutions as places that require licensing from the Massachusetts Board of Health. The bill would effectively make it illegal for pharmacies and drug stores such as CVS/pharmacy and Walgreens to stock tobacco products.
"It's f—ing awful – it's the worse," said Kat Yeboah, a Bunker Hill Community College student who lives near the BU campus.
"It's really annoying when you go to a drug store and you can't buy cigarettes," she said, gesticulating with one hand, holding a lit Marlboro 27 in the other. "It's just like, I walked all the way here and you don't sell cigarettes? I cannot stand it."
The thinking behind the bill, Balsam said, is that pharmacies selling tobacco also sell a mixed message about health.
On one side of the store, he said, they sell products to help wean people off of their addictions to tobacco products, and on the other, they sell the addiction itself.
Removing cigarettes from drug stores, Balsam said, would make it "a little bit more difficult for kids to get tobacco products."
He said readily available cigarettes, stocked in the same store as bandages, tissues and other mundane products, "tend to normalize [the act of smoking]."
The bill probably would not have a significant effect on adults, he said. Under the terms of the bill, convenience stores and liquor stores will still be able to sell tobacco.
The two CVS/pharmacy stores on Commonwealth Avenue, however, did not make the cut. Managers at both of the stores, which are technically located in Brookline, said they are aware the ban will go into effect soon.
They have not pulled cigarettes from the shelves yet, but they will soon, said Claudine Durham, store manager at the Commonwealth Avenue CVS/pharmacy across from BU's College of Arts and Sciences.
"We're waiting for a letter," she said.
Although the store does not have a pharmacy, it is still classified as a drug store and falls under the parameters outlined by the bill.
Durham said she will continue to stock cigarettes "until the state tells me I need to stop." Then, she said, "I'm only getting two weeks to get them out of the building."
She said the new measure will "definitely" impact the store's sales.
"Tobacco is one of our top ten sellers," Durham said.
Balsam said as far as tobacco use goes, "Brookline is on the right track," adding that the town had one of "the lowest rates of tobacco use in the Commonwealth."
He said the bill represented another way to combat tobacco usage.
Tobacco use is "known to be related to various and serious health conditions such as cancer," according to the bill.
The ideologies behind the use of tobacco are varied and far-reaching, he said, and there is not necessarily one particular thing a town can do to completely stave off smoking.
The best thing to do, he said, is to come at the problem from different angles, implementing different kinds of educational programs, banning smoking in restaurants and bars, as well as limiting the number of tobacco-selling licenses.
"It'll be difficult to measure the precise effects," he said of the proposed measure, but added that 18 other Massachusetts cities already have similar laws in place.
Boston, Framingham, Newton and Needham are among the cities that ban pharmacies from selling tobacco products, according to TobaccoFreeRX.org.
Boston's legislation went into effect in early 2009, according to the Boston Public Health Commission's website.
"Tobacco is one of the leading causes of death in the United States, and lung cancer has been the leading cause of cancer death among Boston residents," the regulation said.
In the foreseeable future, however, Bostonians and Brookline citizens will continue to smoke.
"I know Boston really, really well so I know where to buy cigarettes," Yeboah said, "but I know a lot of people who aren't from here, and they're like 'Dude, what do I do?'"