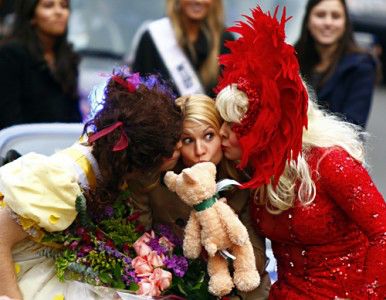 Actress Claire Danes paraded alongside rainbow-clad men in drag and spanked a costumed cow as part of Hasty Pudding Theatricals' Woman of the Year award celebration.
Danes, a "Homeland" actress and Emmy winner, received Hasty Pudding's Woman of the Year award from Harvard University's Hasty Pudding society on Thursday.
"I wish every award ceremony was this wackadoodle," Danes said.
The Hasty Pudding Theatrical society began in 1795 as a secret club for friendship and patriotism, but emerged over the centuries as a group of students who performed annual plays, according to its website.
Its namesake comes from a rule crafted by founders that required members to bring a pot of 'hasty pudding' to each meeting.
Hasty Pudding's Woman of the Year award, which began in 1951, honors actors who have made an impact in both drama and comedy, according to Hasty Pudding's website.
Past award winners include Meryl Streep, Julia Roberts and Anne Hathaway.
Danes also starred in films including "Stardust," "Romeo + Juliet" and "Terminator 3: Rise of the Machines."
"When we found out who it was, we were really excited," said Cambridge resident Miyeon Lee. "She's beautiful and a great actress. The atmosphere and seeing how excited everyone was made it fun."
The celebrations began when Danes led a parade throughout Cambridge. The Harvard University Band preceded Danes's car, which was surrounded by Hasty Pudding's all-male cast dressed in drag.
Hundreds gathered and lined Massachusetts Avenue to get a glimpse and a photo of Danes.
The men, dressed in rainbow jumpsuits and feathered headpieces, attracted attention when they jumped in front of cameras and yelled.
"It was so loud and crazy," said Cambridge resident Eunjung Na. "It was really fun and exciting with the music and drag dressers."
Two cast members sat alongside Danes throughout the parade and gave the actress the traditional double-cheek kiss.
Danes called the parade "utterly trippy" in a press conference after the parade.
"It is forever emblazoned in my mind," she said.
After the parade, the Hasty Pudding cast from this year's 164th annual production "There Will be Flood" performed a roast of the actress in Harvard Square's Farkas Hall. Hasty Pudding President James Fitzpatrick and others roasted Danes on stage before she received her award.
They joked about her longtime gap between Emmy awards, her film career and her attendance at Yale University before dropping out.
Danes had to participate in her own roast before accepting the award, but she did eventually receive the Pudding Pot, a miniature softball-sized pot.
Danes also participated in skits with Hasty Pudding cast members in which she performed as a dance battle with a robot, spanked an actor dressed as a cow with a stuffed animal and performed Shakespeare's version of "The Vagina Monologues" in a British accent.
Despite what some would consider wardrobe malfunctions during the ceremony, Danes said she was in a cheery mood throughout the roast.
"I tripped when I arrived, my dress ripped," Danes said. "But it was great."
Danes said she felt "proud and honored" after receiving the award. Her favorite part of the day, she said, was catching a stuffed animal pig someone threw to her from a second story window.
"It was nice to get good and stupid," Danes said.
Hasty Pudding Theatrical's Man of the Year award will be presented to actor Jason Segel on Friday, Feb. 3.