Members of Boston University's Students for Justice in Palestine staged a walkout at a forum with Israel Defense Force soldiers Tuesday night.
Lital Shemesh and Adam Avidan, two Israelis who served in the IDF, spoke to a group of about 50 students at Barrister Hall in the School of Law as part of a forum hosted by BU Students for Israel. The soldiers provided insight about what it was like to serve in the military and the ongoing Israeli-Palestinian conflict.
"What we are here for is basically to show the faces behind the headlines," Shemesh said.
SJP members protested in Marsh Plaza at 6:45 p.m., carrying a banner that read "Students for Israel whitewashes colonialism."  They attended the forum at 7:30 p.m., wearing shirts that read "IDF guilty of war crimes."
Demonstrators put duct tape over their mouths and walked out in unison shortly after Avidan began speaking. About 30 students remained at the event after the walkout.
"We want the BU community to know that the IDF is not welcome here," said Tyler Cullis, a LAW student and SJP member.
BUSI President Matt Goldberg said the event was intended to allow the BU community to ask questions to people of a similar age who have served in the Israeli military.
"It's important for BU students to hear those stories from people of the same age," the College of Arts and Sciences sophomore said.
Goldberg said it was important for students to understand the complexity of life in Israel.
"Ultimately, BU is a global university," he said.
Israel requires its citizens to enlist in the army at age 18, Avidan said. Men must enlist for at least three years, while women must serve two.
Shemesh volunteered to serve as a border checkpoint guard, which Goldberg described as an unusual position for women. Avidan was drafted in 2002 and made a career for himself in the army, serving as coordinator of government activities in the Palestinian Territories before pursuing a bachelor's degree.
"Unfortunately, we are still fighting our war of independence and, at the moment, I cannot apologize for defending my country, and I cannot apologize for my rights to live," Shemesh said.
Joshua Niland, a CAS junior and SJP member, said bringing in IDF soldiers to speak was wrong.
"On average, with impunity, they kill at least one Palestinian every other day, oftentimes a child," he said. "I don't think it's okay to have war criminals on this campus."
However, Niland also said the protests were intended to be civil.
"[We want to] disrupt their event in as civil a manner as possible," he said.
COM sophomore Rachel DuShey, BUSI's outreach director, said the manner of the protest was strange.
"It was interesting that they wore tape on their mouths because they could have easily voiced their opinions and engaged in a dialogue," she said. "Instead, they presented this image that did not really help anybody."
Goldberg stressed the importance of people being educated on the issue.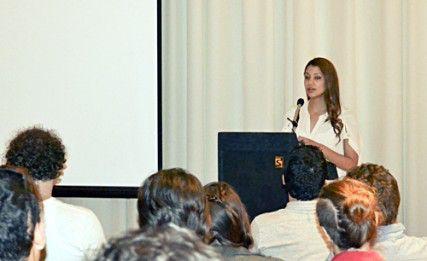 "It's important that the members of the pro-Israel community, members of the BU community, members of the US Armed Forces learn about these things," Goldberg said.
Goldberg said the forum was an ideal arena for those with different opinions or questions about the actions that Israel has taken to engage in conversation.
DuShey said, "I think the only thing the protestors demonstrated tonight was an unwillingness to come to any peaceful solutions or understandings."