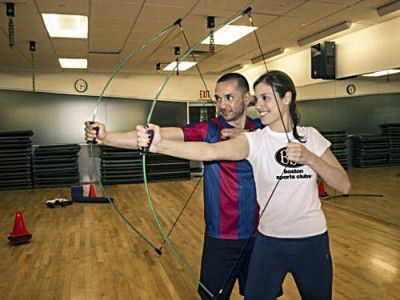 "The Hunger Games" is invading both movie theaters and fitness centers, as one Boston-area gym is offering a free workout fit to train a Tribute.
From March 29 through April 26, members and non-members can "Train Like a Tribute" for free at the Davis Square Boston Sports Club to see if they have what it takes to win the Hunger Games.
Although the book is popular among teenagers, Davis Square BSC Fitness Services Manager and trainer Fawn Cronin said people of all ages will flock to the workout, which begins at the Davis Square BSC on Thursday.
"I think there is something in each character that adults can relate to," she said.
The workout tests participants with the type of high-intensity feats main characters Katniss and Peeta must master, featuring "archery, tree climbing, strength training and speed work," according to the BSC website.
The exercise circuit, the brainchild of Eric Salvador from the New York Sports Club, includes moves inspired by "The Hunger Games" characters and animals – Capitol Crunches, Peeta Presses, Fox Face Quick Feet, Jabberjay Jacks – in a workout similar to the gym's Ultimate Fitness Experience class, she said.
To keep people on their feet, BSC will throw in "disasters" for sweating gym-goers to dodge and "sponsor gifts" for people who look like they need help or deserve a reward.
While the workout does not include a fight to the death as in the book, Cronin said players still get competitive.
"You can see everybody kind of sizing each other up as I'm announcing what the exercises are about, what we're doing for the disasters," she said. "But there's always that one person that's not looking around that wins – the one that's focused and knows exactly what to do."
Contestants who complete the most repetitions of the exercises get their own Mockingjay pin, in true Katniss style, Cronin said, and other prizes such as private training sessions or free one-month memberships.
Anna Tassone, a Boston University junior in the School of Education, said the allure of winning prizes and the "thrill of beating other people" could influence her to consider attending the workout.
While others said they did not think they could win, students such as Vidhi Patel, a sophomore in BU's College of Engineering, they might give it a shot based on the merits of the workout alone.
"I'm not a fan [of the series], but I'd be down to try it," he said.
Hannah Faiguenbaum, a junior in SED, said she has read the trilogy and the books present an interesting idea for a workout. But the distance between the BU campus and Davis Square might prohibit her from trying it out, she said.
"I would be more tempted to go if it was closer to campus," she said.
Cronin said the workout demonstrations have elicited interest from a diverse mix of people from all over the Boston area, despite the location of the particular BSC hosting the class.
"We didn't expect it to take off as quickly as it did," she said. "We kind of thought 'Wow, Davis Square, it's not like we're in Back Bay or Downtown Boston.'"
In the meantime, she said, prospective Tributes must sign up early to represent one of the districts in the workout, as class size will be limited to about a dozen spots.