After sweeping Binghamton University in its first conference series of the season, the Boston University softball team will take on the University of Connecticut  in an attempt to extend its eight-game winning streak when it travels to Storrs, Conn., on Wednesday afternoon.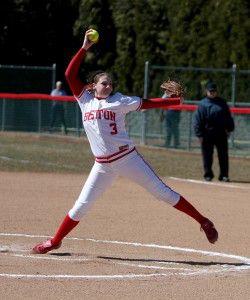 Riding its streak, BU received a No. 30 ranking on the first release of the NCAA Softball national rankings. BU has played seven teams ranked better than 50 in the RPI and has come away with a record of 3-4 against those teams. These victories, along with the team's challenging non-conference schedule, played an important role in its high ranking.
"We play [non-conference games] to win them," said BU coach Shawn Rychcik. "They're on the schedule, they count. They matter as far as rankings are concerned."
The Terriers (19-8, 3-0 America East) completed a three-game sweep in a weekend of solid pitching that led to junior Erin Schuppert being named America East Pitcher of the Week.
On Sunday, Schuppert pitched a complete-game shutout, striking out nine in an effort that helped demonstrate the strength of the Terriers' pitching. The Terriers' combined 1.88 ERA is 28th in the country among Division I schools, and both sophomore Holli Floetker and junior Whitney Tuthill have ERA's ranked in the top-100 in the nation.
"The whole game revolves around pitching," Rychcik said. "No matter how good you hit, if you don't have pitching you're not going to win."
After a successful opening to conference play, BU will take on non-conference opponent UConn (12-11) almost exactly a year after the last time they played each other. That game ended in a 1-0 victory for the Terriers.
Rychcik said the real key to victory on Wednesday – and for the rest of the season – will be the continued strength of all three pitchers and the defense that backs them up.
"We're very fortunate because we've got three pitchers throwing the ball pretty well right now," Rychcik said.
The Huskies most recently swept a doubleheader against Sacred Heart University on Tuesday winning 8-4, then 15-9.
Senior Amy Vaughn, whose .385 batting average is a team-high, leads the Huskies' offense and went 2-for-4 with three RBIs during the second game of the UConn's doubleheader. Vaughn also leads the team in RBIs, hits, home runs and slugging percentage. Shutting her bat down will be a necessity for the Terriers' pitching staff.
The Huskies' pitching staff has a team ERA of 3.78 and only junior Kiki Saveriano (7-5) has a winning record. Her 3.10 ERA is also a team best. Freshman Lauren Duggan (3-4) follows closely with a 3.32 ERA.
"They've played a pretty competitive schedule so our pitching isn't going to just zap them," Rychcik said. "We're going to have balls to play and have to get some timely hitting."
It is this pitching staff that the Terriers powerful offense will have to overcome. Sophomore catcher Amy Ekart leads BU with 19 RBIs, and three other Terriers also have RBIs numbering in the double digits. Sophomore leadoff hitter Jayme Mask continues to lead the team with a .342 batting average and 10 stolen bases.
The Terriers' bats are not the only things that have been hot recently, as the team's defense has played well all season. BU's .972 fielding percentage is 27th in the nation, and Rychcik said keeping up this strong defensive performance will be a major factor in the Terriers' continued success.
The Terriers hope their defensive and offensive success will continue on Wednesday as they take on UConn in an attempt to extend their winning streak to nine games.
"It's a rival; you play them every year," Rychcik said. "It's a game you want to do well in so it's important to get out and play well against them."