While facing the University at Albany in New York, the Boston University lacrosse team was down 9-4 at the 10-minute break between periods. Multiple times during their recent six-game winning streak, the Terriers were in the same position, knowing a strong second half would be the only way to land a comeback win.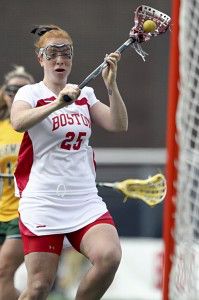 BU (8-4, 4-0 America East) produced such a second half once again, exploding for 12 goals while Albany  (8-4, 1-2 America East) scored only twice. The Terriers extended their winning streak to seven with a 16-11 win over last year's America East champion, NCAA Tournament quarterfinalist and the preseason pick to win the conference.
In the first 10 minutes of the game, the Great Danes scored five of seven goals to establish a lead. Partway through the half, BU goals from freshman attack Mallory Collins and junior midfielder Kristen Mogavero chopped it to a 6-4 lead for Albany, but the Great Danes closed the half out with three more goals in the final 10:27.
"We had a slow start," said BU coach Liz Robertshaw. "We weren't getting draw controls. I believe Albany beat us in the first half 10-4 on draw controls and that hurt us. I thought defensively we were a little slow to slide and read how they were going to attack us and I thought that, to be honest, Albany had possession of that ball for at least 70 percent of the first half."
The possessions BU did have in the first, however, were acceptable to Robertshaw, though she hesitated to describe them as perfect.
"I wouldn't say they were our best attacking sets," Robertshaw said. "On the other hand, I think we had maybe seven looks on attack and we scored on four, so that's not bad. It just wasn't enough."
The game became all BU a few minutes into the second. Senior attack Annie Stookesberry and Collins cut Albany's lead down to three goals at the beginning, with a response from Albany attack Amanda Pollock at 24:20.
The Terriers then went on a seven-goal run, with three goals from Collins, three goals from junior attack Danielle Etrasco and one from sophomore attack Becca Church. Pollock scored once more for Albany at 6:47 before Mogavero, senior attack Hannah Frey and Etrasco closed out the game with another short run.
"For the second half, we addressed what we needed to do," Robertshaw said. "We addressed that we needed to have the ball in our stick and we had to give our attack more opportunity at cage and more looks on cage."
The Terriers lacked possession in the first, but gained it in the second. Albany turned the ball over nine times in the back frame and won three fewer draw controls in that half, while BU put the ball in its sticks for an increased amount of time, something Robertshaw indicated the defenders worked for.
"I think they were a little bit more aggressive, but I felt that there was a greater sense of urgency to get the ball," Robertshaw said of her defense.
Collins led all scorers with five goals, followed by Etrasco with four. Junior attack Catie Tilton had the most assists in the game (three), while sophomore attack Elizabeth Morse won the most draw controls for BU (four).
Sophomore goalkeeper Christina Sheridan played all 60 minutes in goal for the Terriers, making four saves – three in the second half alone. She also assisted Church's goal in the midst of the major BU run.
Both Pollock and midfielder Ariana Parker scored three goals for the Great Danes, with senior midfielder Mel Rorie contributing two. Attack Rachael Burek won six.
Goalkeeper Anna Berman played all but 2:41 of the game in cage, allowing 15 goals and making 6 saves. Goalkeeper Brett Yenger played the remaining time, allowing one goal and making no saves.
BU retained a hold on first place in America East with the win, though Stony Brook University trails right behind with a record of 3-0. Albany drops back into a three-way tie for fourth with the University of Vermont and the University of New Hampshire.
Over the next three games, the Terriers will play two non-conference opponents – Boston College and Canisius College – sandwiched around a game against Stony Brook. All three will be at home, closing out the regular season at Nickerson Field for BU.
When she was summing up the changes the Terriers made between halves, Robertshaw again returned to the concept of possession.
"You know, I don't know what necessarily clicked in the players – that's something they can answer for themselves – but I know for us the adjustment was just get the ball," she said. "I don't know necessarily what they were focusing on in the first half. Second half it became very skillful: We needed ball possession more than Albany, and we did that."