Last season, attack Danielle Etrasco became the Boston University lacrosse team's most dominant player and most well known figure as a sophomore.
She was named the America East Co-Player of the Year, made the International Women's Lacrosse Coaches Association Northeast First Team and finished near the top of the list in nearly every scoring category in America East.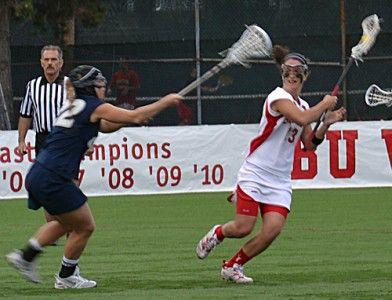 This year, Etrasco leads the Terriers again with 42 goals, 56 points and 78 shots and has started every game. But behind her on the points and scoring list is a new face – freshman attack Mallory Collins, who was named America East Rookie of the Week on April 9.
Collins has scored 38 goals for BU and has 44 points and 62 shots. She directly trails Etrasco in all three of those categories. She lacks, however, the same numbers in draw controls and ground balls as the junior.
Collins led BU with five goals at the University at Albany on Saturday and has stood out all season long, something BU coach Liz Robertshaw said is a result of her mental and physical skills on the field.
"I think part of it is her maturity level on the field," Robertshaw said. "On the field, she's a player who reads the game well and plays a lot by instinct, and I think the fact that she has been able to handle a lot of body contact – teams double-teaming her, putting some extra pressure on her – I think she's handled it extremely well."
Robertshaw said the team does try to set the freshman up for various plays, but Collins acts on the fly.
"It's interesting," Robertshaw said. "There are times when we definitely try to set her up for certain looks, in that she's good at different times – sometimes it's on the crease, sometimes it's up high.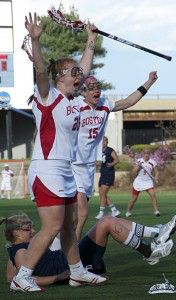 "I think that she's done a really nice job of handling balls that some people necessarily wouldn't catch and be able to finish them."
Learning to live with the 
second-half surges
On Saturday in its game against Albany, the team once again engineered a second-half turnaround, scoring 12 goals in the second half after entering the frame down 9-4 to earn the 16-11 win. It marked the Terriers' fourth such surge in the past four games, as the second half has proven to be crucial to BU's victories.
The Terriers have shown a second-half trend through their 12 games. In the first half, BU has been outscored 81-62, turning around in the second half to crush opponents 93-53.
When it comes to shot totals, BU has taken 155 shots to opponents' 168 in the first half, whereas in the second that number turns into a 164-144 BU lead. The trend stays true for shots on goal as well, as opponents lead 117-110 in the first, but BU successfully responds with a 134-109 lead in the second.
Given how predictable second-half swings have become for the Terriers, Robertshaw said she and her staff have become more agreeable with the pushes.
"I think it's something that, for a brief moment, yes, it does come into my brain saying, 'What if this is not going to be enough?'" Robertshaw said. "But then we as a coaching staff have taught ourselves and really have to think, 'Hey, if this team can get it done, why should we second guess them?'"
A return to non-conference games
The next three games for the Terriers are a change of pace. The Terriers will host Boston College on Wednesday, Stony Brook University on Saturday and Canisius College on April 18.
The three-game stretch is BU's longest of the year, while almost doubling the number of games played at home this season.
Though the Terriers will face the Seawolves – who currently trail BU in the standings by a half game – in the middle of the stretch, they will also face a team from the Atlantic Coast Conference and a team from the Metro-Atlantic Athletic Conference. Robertshaw denied calling the two games a break from the America East schedule in any way.
"I really wouldn't call playing Boston College a break," Robertshaw said. "They're a very good team.
"This is a tough week for us. We're facing two of the toughest opponents we've faced since February and March."