If there is one obvious key to the recent success of the Boston University softball team, it is that it doesn't give its opponent's offense any extra help.
The Terriers' .973 fielding percentage is currently first in America East and 21st in all of the NCAA. BU opponents this season have managed to garner a much less consistent .959 fielding percentage.
The team's 28 errors have taken place during half of its games, as BU has finished 17 of its 34 total games without making any miscues in the field.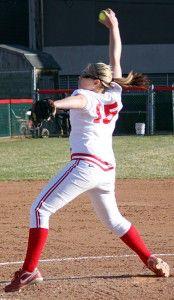 "We've done pretty good [defensively] most of the year," said BU coach Shawn Rychcik. "We don't have strikeout pitchers, so the ball is going to get put in play quite a bit, but we've made quite a few plays and really helped ourselves out over the year."
Success in the circle
BU's pitching has also been a force in which opponents have been unable to find any major flaws.
The Terriers' cumulative ERA of 2.40 and total earned runs of 65 are second only to Stony Brook University (2.01 and 62) in America East play.
Sophomore pitcher Holli Floetker leads BU's pitching rotation with a 1.72 ERA and a 12-3 record. Floetker's win total places her third amongst America East pitchers.
Juniors Whitney Tuthill and Erin Schuppert have performed favorably for the Terriers as well, holding their opponents to a collective .230 batting average during the season.
"We've had pretty good pitching," Rychcik said. "If you look at our scores, we've been in every single game we've played this year. I think they go hand in hand, pitching and defense – our pitchers have had confidence and have been throwing strikes, and if the ball gets hit we're going to make the plays."
Keeping cool despite close calls
The 2012 season has been characteristically marked by close games for BU.
The Terriers have finished 22 of their 34 games within two runs of their opponents and have emerged the victor in 14 such games. Nine of these victories have been by a single run, and the remaining five have been by two.
In five games that have gone into extra innings, BU has won three — one game in eight innings, one in 10 and one in 12.
BU has found success when matchups are more lopsided. The team has won each game that has resulted in a five-run or greater deficit in the final score.
Rychcik said he has learned to embrace the proximity with which the majority of his team's games have ended.
"We're used to playing that type of [close] game," Rychcik said. "Getting those last five or six outs, any mistake can cost you. We're pretty comfortable in that kind of situation."
Ducks stranded on the pond
Despite having outscored their opponents 122-85 so far this season, the Terriers have had trouble bringing runners home on multiple occasions.
While its opponents have left a total of 193 runners on base, BU accrued a total of 214 in this category.
The team's inability to bring runners home has proved costly in games such as those against the University of Connecticut and the University of Illinois, where it left 11 and 10 runners on base, respectively. BU lost both of these matchups.
Most of BU's runs have come from sophomores Jayme Mask and Chelsea O'Connor, who each have 22 this season. The next highest run total by a single Terrier is 12, held by both senior Erica Casacci and junior Emily Roesch.
Rychcik says that he is unsure as to why his team is unable to bring runners home at times.
"We've left a few more on base than we normally have," Rychcik said. "We've continued to take batting practice . . . and talk about situational hitting and things like that. From that standpoint, I really don't have an answer why we're like that."