When a player hits five doubles in a single day, that player typically garners at least one or two RBIs as a result. However, when sophomore Brittany Clendenny accomplished the feat as the Boston University softball team swept Providence College in a doubleheader Wednesday, the shortstop contributed to the Terriers' run count by scoring rather than driving her teammates in.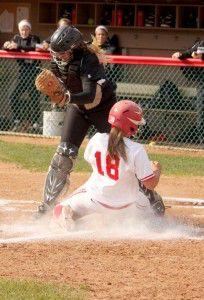 With sophomore right fielder Jayme Mask out due to injury, Clendenny was chosen as the leadoff substitute for the team's leader in steals. With the help of senior left fielder Erica Casacci and sophomore third basemen Megan Volpano, Clendenny scored three BU (29-13, 8-3 America East) runs in its initial 5-3 victory over the Friars (15-31). The runs were scored in nearly identical fashion.
In the first inning, Clendenny started hot with her first double to left field. Casacci then moved her shortstop to third with a sacrifice bunt back to the pitcher. Volpano cleaned up the leftovers with a sacrifice of her own – a pop-fly to center that brought Clendenny home and put the Terriers up by one.
"Getting over to third base was important today," said BU coach Shawn Rychcik.
Clendenny repeated the feat two innings later. In the third, after senior first baseman Melanie Delgado popped out to second, Clendenny returned to the plate. She whacked another double, this time to right field, and was immediately advanced to third base by a Casacci ground out. Volpano snagged another RBI and her first hit of the day when she singled Clendenny home.
After the Terriers gained another run in the fourth, the top three batters replicated the first inning nearly verbatim. Clendenny led off with a double, Casacci laid down a successful sacrifice bunt, and Volpano hit a grounder that allowed her to reach first safely, as the fielder's choice throw home in an attempt to stop Clendenny from scoring failed.
Rychcik said he was fully aware of the flow that was developing in the first win over Providence.
"What happened is we just gained a little confidence that 'okay, somebody moved a runner over,'" Rychcik said, emulating the thoughts of his batters. "It's nice that Megan got into a rhythm: 'Hey, Brit [Clendenny]'s on, she's over, I'll get her in. Oh, I did it, I'll do it again and I'll do it again.'"
Volpano drove in Clendenny two more times during BU's second win – this time by a 3-1 tally – over Providence, giving her five RBIs on the day. Clendenny doubled prior to scoring in both of these cases as well. Volpano now leads the Terriers in RBIs with 30 while Clendenny leads the squad in doubles with 13.
"It makes it a lot easier when we are able to do the same thing, you know, two, three, four times in a row," Rychcik said. "The game had a real nice flow to it early. We were putting across good at-bats."
As Rychcik said, what was equally important as driving in runs was putting the runner into scoring position – specifically third base. Casacci handled this oft-sacrificial role with selfless poise, finishing the day with zero hits, yet only three official at-bats in six plate appearances.
"When we get those productive outs like that, we're going to have some easier at-bats," Rychcik said. "For the people that are driving them in, it might just be a base-hit, a sacrifice fly or – in a lot of cases – even a ground out is enough."