When Jeff Pelage and Jake O'Brien arrived at Boston University almost four years ago, they were no different than any other players getting ready to start their college basketball careers.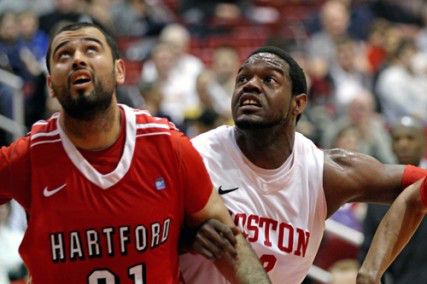 There were the same aspirations – improving their respective games, growing as players and, hopefully, experiencing a championship and the bright lights of the NCAA Tournament. Maybe more than anything, they were there to play for a coach who convinced them to come play for him rather than anyone else in the country.
But now, three and a half years, 132 games and countless hours of practice later, the pair can no longer say their careers have been average. Indeed, among thousands of Division I college basketball players, they are unique, as BU's two-man 2008 recruiting class has had the bizarre if not downright dubious distinction of having played for three different coaches in their four-year college careers.
"It was just tough, it was just tough," Pelage, a senior center, said.
While O'Brien and Pelage's experience with coaching turnover has been far from typical, coaching changes aren't all that strange. In fact, in the world of modern college basketball, they're something of a necessary evil.
In an ideal world, a player would commit to play for a coach throughout their college career. For some players, this ends up being the case. Others, however, are not so lucky.
Sometimes a coach underperforms and the school lets him go in favor of someone who can right the proverbial ship. On the opposite end of the spectrum, a coach can find success at a school and abruptly leave for a more promising opportunity. This is the world in which BU lives.
But behind all of this movement are young men who are left to deal with the wide-ranging effects of it, who have to adjust to new coaches and accept their new realities. O'Brien and Pelage are two of those faces, exceptional case studies in what is a common phenomenon.
Though they have come to share a lot of similarities, Pelage and O'Brien took very different routes to BU. O'Brien is a local boy and former standout at Boston College High School, while Pelage came to Boston all the way from Pompano Beach, Fla., and the Pine Crest School, where he was teammates with Detroit Pistons point guard Brandon Knight.
But they were both driven to the same program, guided here largely by the man who was in charge at the time – former BU coach Dennis Wolff. Known as a tough, hard-nosed coach, Wolff was the man that the two trusted to introduce them to the ropes of college basketball.
"I have a lot of respect for Coach Wolff," O'Brien said. "He demanded a lot from me and expected a lot from me, but he was a really good, influential person. I was just a young kid, I was a freshman, and we built a strong relationship. I think he got the most out of me."
The situation seemed stable enough. Wolff was in his 15th season with the BU program and while the Terriers weren't overwhelmingly successful that season, they still finished 17-13 despite season-ending injuries to a host of key players.
Suddenly, that all changed. On March 11, 2009, Athletic Director Mike Lynch released a statement announcing the school had fired Wolff. Now, the man who visited O'Brien and Pelage in their living rooms and who they thought would be their mentor for a critical juncture in their lives was now gone, never to return.
"At first, I was kind of shocked, but based off the aura that was with the team, I guess they kind of knew it was already coming," Pelage said. "I hadn't been there that long and didn't know how the whole thing worked, and I knew Coach Wolff was there for a long time, so I didn't think anything of it. I guess it was one of those things that the school had to part ways with him and move forward into a new direction."
With BU's decision came decisions of their own for Pelage and O'Brien as to whether to leave. Both players said they seriously considered transferring, with O'Brien taking some tangible action by being granted an official release from the program to explore other options.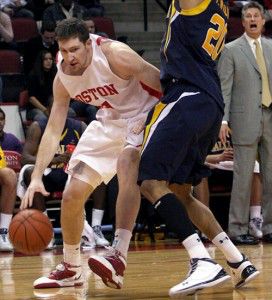 Their futures at BU would be largely dependent on who the school hired as the next head coach, a moment that came when Lynch turned to Villanova University associate head coach Pat Chambers to take over. Both O'Brien and Pelage met with the energetic up-and-comer and decided it was in their best interests to trust the new coach and stay with the program.
As the work for the 2009-10 season began, the true effects of the transition were felt both on the court and off. Chambers was a fast and clean break from Wolff in almost every way imaginable. After playing a season in Wolff's deliberate, half-court offense, they had to adjust to Chambers' up-tempo system.
With a new coach came a new personality as well. Pelage and O'Brien had built good relationships with Wolff, but their former coach often came off as more buttoned-down and sometimes standoffish. Chambers, on the other hand, was an animated and indefatigable personality who never seemed to tire.
"From the two years that I had with Coach Chambers, you had to bring it every day," Pelage said. "Leadership starts from the top and he brought it every day. He stood for everything that he stood for as far as being positive and having a great attitude.
"You could tell he was about that when he woke up."
With Chambers' energy came something much more important – wins. The Terriers went 21-14 in each of his first two seasons and in 2011, BU went on a late-season run that brought them all the way to the NCAA Tournament.
That success, however, did not come without consequences, as Chambers left the program last June to become the new head coach at Penn State University.
"Regardless of what is printed and what is said, it was the hardest thing I've ever done," Chambers told The Daily Free Press in June of his decision. "I really do care about those kids. They sacrificed and they gave it up, and I think about them all the time."
O'Brien and Pelage had been through a coaching change before, but the news of Chambers' departure was particularly hard for them both. Though they both understood the move, it didn't make it any less hard to cope with.
"When I found out he was leaving, everything just flashed before me and in front of me," Pelage said.
Going from the America East Conference to the Big Ten Conference is a logical move upward for almost any coach, but Chambers' decision left behind a slew of players who have become all too familiar with coaching turnover in college. But even among their BU teammates, O'Brien and Pelage stand out.
Seniors Matt Griffin and Darryl Partin, too, played for three coaches in four years, but partly by choice as they transferred to BU. Senior center Patrick Hazel is another matter entirely, as he has the unenviable honor of having played for four different coaches in his four years of college eligibility.
But Pelage and O'Brien have been at the same school the entire time. They committed to BU expecting to play for Wolff, decided to stick around for Chambers and this season, they had to work with their third coaching staff.
"It was a terrific group of guys that really care about Boston University, really care about the program, really care about each other, really care about getting better, just a terrific group," said current BU coach Joe Jones. "It was one of those groups that you just wish you had more time with them, you just felt like you didn't have enough time."
O'Brien said that it was a smooth transition under Jones, especially given all that's happened to him in his career.
"Having played for two coaches and now having a third, I've kind of seen it all," O'Brien said. "Coach Jones is a really good person, a really good guy, and I think all of us were just happy to play for a guy like him. I think we bought in right away."
Jones, who oversaw coaching changes in the past at Columbia University, noted that the changes players face go well beyond what most people think.
"Your relationship, the trust factor, your belief – all those things take time," Jones said. "I think the continuity of a team and a staff is very, very important and, without that, it's hard. It's very, very hard."
Pelage concurred with Jones on the impact that turnover has on the fundamental relationships that are established between coach and player on the college level.
"Working with people for so long, you have all the good times, you have the hard times and you just look at all those times, and those people are moving on and you're still here," Pelage said. "It's just like, where do you go from here without those people?"
Four years later, with the BU program standing in sharp contrast to the one that O'Brien and Pelage committed to coming out of high school, both players will move on to a new phase of their lives. Pelage will graduate in May from the School of Hospitality Administration and O'Brien will play his senior season after sitting out all of last season recovering from surgery on an ailing foot.
For all the adversity they faced in their college careers, they move forward with a positive attitude about what awaits them. After all, they've been through so much change and turbulence, they're ready for anything that may come their way. And they know that in real life, just like college basketball, change is just a part of the way the world works.
"I think the biggest characteristic I can get out of all this is that I've learned to be adaptable, and if you compare this to the real world, there's going to be changes like this happening all the time," Pelage said. "As you develop as a person, as I grow into becoming a better person and man, you learn that people are going to have to make decisions.
"I may one day make this decision to someone else and they're going to have to go through what I went through in college. I guess the thing is being adaptable and just understanding that you just can't be bitter about any of these things."