Matt Griffin mulled over the options in front of him.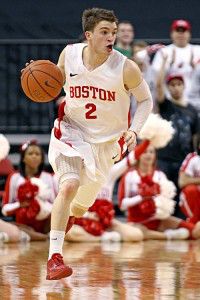 It was 2009, one season after being named a team captain as just a sophomore, and he had decided to transfer from Rider University and explore other possibilities for his basketball future.
He considered going to community college. He looked at several Division I and II schools. He even thought about taking a year off to hone his skills, namely his dribbling, free-throw shooting and trademark 3-point shot.
Griffin needed a change of scenery. Rider had posted a 34-24 record in his two years at the Lawrenceville, N.J., school, but his name had fallen well below where he wanted it to be on the Broncs' depth chart.
He no longer fit into coach Tommy Dempsey's offensive system at Rider.
"My game was more tailored toward running an offense and being a pass-first [point guard]," Griffin said. "Their system was more of scoring one-on-one. In order for me to play, I had to score more. It just wasn't my style. I didn't feel comfortable. So I knew in order for me to reach my potential, I'd have to try a different system in a different place."
Griffin then touched base with first-year Boston University men's basketball coach Patrick Chambers, whom he had met at a tournament while playing for St. Joseph's Preparatory School in Philadelphia. Chambers was one of Villanova University's assistant coaches at the time, and was on the recruiting trail looking at a skilled power forward named Dalton Pepper.
While in the stands of that Classics Tournament, Griffin met Chambers, who would later reach out to him after he was granted his official release from Rider.
Griffin took a leap of faith, as he likes to call it, and it brought him to BU.
***
A native of Narberth, Pa., "Griff" hated Villanova with a passion.
That's what he was raised to do since his father, John, was an assistant coach at St. Joseph's University from 1988-90 and then became the Hawks' head coach in 1990, holding the position for the next five years.
Born in 1989, Griffin grew up watching his dad patrol the sidelines while attending Hawks' home games at the Michael J. Hagen Arena. Wherever he turned, Griffin was surrounded by the passion the state of Pennsylvania has for college basketball.
Trips to the University of Pennsylvania's Palaestra became Griffin family outings, and the atmosphere opened Matt's eyes to the heated rivalry among Philly schools.
Having been exposed to Philadelphia college basketball at an early age due to his dad's coaching, Griffin learned the majority of the game from his older brother, John.
They played on the same basketball hoop in their backyard since they were five years old and knew the different nooks and crannies of the backboard, which allowed them to score in a variety of ways.
For quite some time, John held the edge over his diminutive brother.
"I was always physically bigger than Matt," John said. "I'd let him hang around for a little bit and then I'd squash him."
Inner-city Philadelphia groomed the Griffin brothers into the competitors that they are, teaching them to be hard-nosed and play with an edge to their game. On those Philadelphia courts, players had to have a "win-or-go-home attitude" if they wanted to see any minutes.
John has played 20-plus years of basketball in his life, which included a solid four-year career at Bucknell University where he averaged 8.6 points, 2.0 assists and 2.3 rebounds.
Even as he grew older, though, Matt merely played for the love of the game.
"I was always pretty good growing up, but I was also very small," Griffin said. "College basketball never crossed my mind until junior year of high school. I was always playing just to get better and always playing for the fun of it. I enjoyed practicing and working hard. But I don't think I ever had the goal in mind of having to be a college basketball player.
"I was playing for the enjoyment of it and the challenge of getting better. That's it."
That mindset changed when Griffin hit his junior year, by which point he had significantly improved. He believed he could make it to the college basketball ranks, so he continued working hard in the offseason and trained himself to a level where he thought he was good enough to play.
Griffin's motivation was simple.
"My goal became 'I need to play Division I,'" he said.
Saint Peter's College recruited Griffin, but he chose to go to Rider because it was closer to home.
***
BU's 2009-10 campaign was a trying year for Griffin, as he had to sit out the season due to NCAA transfer regulations.
But it also posed a unique challenge for him and fellow transfers Darryl Partin and Patrick Hazel. Through practicing and sitting on the bench during games, Griffin learned to acclimate his skill set to Chambers' up-tempo style.
The lessons he picked up from experienced players on that squad, such as Tyler Morris, Carlos Strong and Corey Lowe, also molded him into the blue-collar player that hustles for every loose ball and walks with a swagger on the court.
"I learned from all those guys, especially Tyler, about the absolute toughness and work ethic," Griffin said. "Those dudes battled and overcame so much adversity. Those guys were mentors to me, especially Tyler, on how to be a leader, on how to play with confidence, on how to play with some swag. They had it all. They taught me how to be physical and tough.
"Playing against those guys improved my game every day. They were the best players in our league, and I figured if I could play against those guys, then I could play against anyone, so it gave me great confidence."
A season after BU fell short in the America East championship game, Chambers named then-junior forward Jake O'Brien, Hazel and Griffin as the team's tri-captains. Griffin hadn't suited up in a game for the Terriers yet, but his leadership qualities had drawn his coach's attention.
Griffin embraced the leadership role and mentored the incoming freshmen from the get-go.
"I try to set the example by leading by example," Griffin said. "I don't want to just be out there being a guy that's a cheerleader. I want to make sure that I'm doing things so that younger guys can follow my lead, first and foremost."
Hazel said Griffin is the epitome of a natural-born leader.
"He's always fired up and trying to make everyone around him better," Hazel said. "He's always so vocal and making sure that if a guy isn't doing the right thing to help out the team, he's trying to bring everyone up. That's probably the best part about him because he's a talented kid himself. But he makes sure to put guys on his back. There's no question about his leadership."
***
A conference crown and an NCAA Tournament appearance in March 2011 humbled the 22-year-old Griffin, who was adjusting to his third coach in four years after Chambers left for Penn State University in June.
"I definitely took a different approach this [past] year because I knew that, coming off a successful year in winning the America East, we'd have a target on our backs," Griffin said. "I had to take more of a role of pushing guys because we didn't want to feel complacent. So it was more of my job to be more vocal than normal, just push guys as hard as possible, more than I did the year before."
New coach Joe Jones moved Griffin from the starting guard spot alongside sophomore D.J. Irving after the third game of the season, a move that didn't faze him at all. He felt more comfortable being the Terriers' sixth man and providing a spark off the bench.
His attitude remained positive, and he never strayed away from the team concept.
"I've been coaching college basketball now for 17 years, and there's no one that has a deeper passion and love for the game and for his teammates than Matt Griffin," Jones said. "He's the consummate team player. Great effort every day. He always wants to know what he can do a better job of, always striving to be better."
As his collegiate career at BU nears it conclusion, Griffin won't be remembered for the 407 points he scored or the 116 assists he dished out or his 3-point shooting percentage dipping from 45.8 percent in 2010-11 to 31.6 percent this year.
He'll be best remembered as being the heart and soul of the Terriers, as a player whose infectious energy inspired all those around him to work that much harder.
"I'll remember him for all his dives," Hazel said. "He loves to dive on the floor. He kind of reminds me of a kid on a Slip 'n Slide. He's always all over the place. He's like a freaking bundle of energy. His energy, the intensity and the passion that he brought every single day in practice, the games, whatever it was, that's what me and the guys will remember him most by."
Senior center Jeff Pelage put Griffin's value to the BU community into perspective.
"Everyone knows about Griff's work ethic," Pelage said. "Everyone knows Griff works really hard. Griff is my guy. He's my teammate. He's my locker mate. He's one of my best friends. Just having him as a team captain, and just even forget about the role of a captain, just having him in my life has been such a pick-up.
"He's been a good guy to me and a good friend, and I can't complain. He's the best and everyone knows that. He's a little guy with a big heart. That's the man right there."