CHARLOTTE— Boston University alumna and actress Alfre Woodard spoke during a student summit Tuesday at Charlotte's Johnson C. Smith University to stress the importance of voting this November.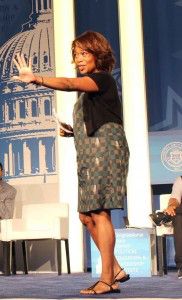 The conference coincided with the first day of the 2012 Democratic National Convention, which a number of students are covering as part of the Washington, D.C., Journalism Program.
"You can write yourself out of history if you don't show up," Woodard, who is a 1974 graduate of the College of Fine Arts and four-time Emmy award winner, said after the summit. "If you don't vote, the process goes on with or without you."
Woodard co-hosted "U-Future," the interactive summit, alongside actors Hill Harper and Nicole Ari Parker. The conference was sponsored by the Congressional Black Caucus Foundation and featured a number of its members who fielded questions from students in attendance and others tuning in online.
"Change has always been brought about by young people," said U.S. Rep. Emanuel Cleaver (D-Mo.) to a rousing, standing ovation from the crowd of about 500. "You can change America — you are America."
The two-hour summit produced a wide variety of questions from the student audience, ranging from loan debt to the responsibilities of the next elected congress.
"What congress can do is unify ourselves after being elected by you," said U.S. Rep. Danny Davis, of Illinois, to the crowd of 15 local colleges and universities.
"They are young, but they are young adults," Woodard said about the students who participated in the summit Tuesday. "They are affected by policy, just as much, if not more than [older adults]."
In the final minutes of the summit, Woodard and her co-hosts read out loud a letter from First Lady Michelle Obama and a message from President Barack Obama's Twitter account. Both encouraged students to get involved with the political process this fall.
"Hill [Harper], Ari [Parker] and I expect great things from you," Woodard said to the audience, moments before the summit ended. "We named this 'U-Future' because we can imagine you in it, successful and triumphant."
When she was the same age as those in attendance Tuesday, Woodard said, politics made up an extensive part of her life. Years before she stepped foot on Commonwealth Avenue, Woodard's father encouraged her to form an opinion on the national issues of the 1960s.
"We had to watch the news every night," said the actress, who has had recent roles in HBO's "True Blood" and TNT's "Memphis Beat." "I started going to rallies when I was 14, I used to help make the coffee and the posters."
During her time at BU, Woodard was an active member of the anti-war movement, once participating in a protest by lying down on the Commonwealth Avenue rail tracks, halting a trolley. She said her time in Boston helped her grow as both an actress and political activist.
"You can't commit yourself to a discipline like [story-telling] and not care about the [audience]," Woodard said. "So I think politics and art are inseparable."