As the Suffolk Downs Resort continues its push for a new $1 billion casino in association with Caesar's Entertainment, casino opponents are pushing for more community education.
"In order to stop a casino license from being granted to Suffolk Downs, all residents in host communities need to do is vote 'no' in the referendum vote," said Celeste Myers, co-chair of the community group No Eastie Casino.
The two cities must sign a community impact agreement in order for the casino to receive a license from the Massachusetts Gaming Commission.
The Massachusetts Gaming Commission will release the application for all potential gaming sites in mid-October, said Elaine Driscoll, a media contact for the commission, in an email.
But the proposed casino, which would straddle the town lines of Revere and East Boston, has faced strong opposition from both communities.
"When you increase the population coming into a region by 20,000 to 40,000 visitors per day, you will see a rise in all segments of that population that includes a seedy element," Myers said. "Real data shows that not only does crime of that variety increase in host and surrounding communities, but also incidences of embezzlement skyrocket."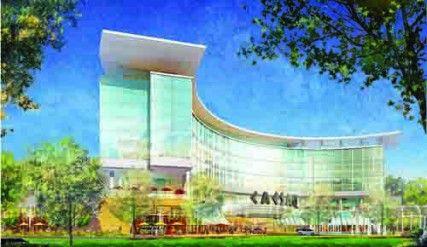 Myers said additional social impacts of a Suffolk Downs casino would be severely elevated incidences of depression, addiction, spousal abuse, divorce and suicide.
The casino would generate $200 million in tax revenue each year, and would also add more than 4,000 jobs for locals, according to a Suffolk Downs Press release.
"This is an opportunity to create a fiscal and economic boost for generations to come, recapturing Massachusetts discretionary spending that, for 20 years, has generated
billions of dollars in tax revenues and thousands of jobs in Connecticut and Rhode Island," said Richard Fields, principal owner of Suffolk Downs, in a press release.
Fields said the casino is built upon "collaboration and partnership," including with residents and community groups.
The Suffolk Downs proposal has "a commitment to create a venue that complements East Boston, Revere and surrounding communities," he said.
But for casino opponents, the next step is community outreach and education, Myers said in a separate email interview.
Because local officials supported the bill without conducting an independent cost benefit analysis or communicating to residents about the process, the group "set out to schedule a series of information sessions to provide an overview of the bill, application process and very real impacts," she said.
Other anti-casino groups that No Eastie Casino works with include No Revere Casino, Neighbors of Suffolk Downs and United to Stop Slots of Massachusetts, Myers said.
The casino has also faced some backlash from Boston Mayor Thomas Menino, who has opposed the plan to build the casino in phases.
Driscoll said the commission has not drafted all the specific criteria for a casino development in the state.
"Generally, the Commission will determine an applicant's suitability based on finances and integrity," she said. "The Commission will seek applications that most effectively address issues of job creation, community mitigation, workforce development, diversity and tourism, among others."
Revere Mayor Daniel Rizzo has launched a community outreach campaign to hear the concerns of the community.
"We must ensure that every member of the community has a voice in the process and for that reason we will be out there in the neighborhoods soliciting input," Rizzo said in a press release.
However, both Menino and Rizzo have shown general support for the economic benefits that the Suffolk Downs casino could bring.
"The pro-casino movement, aside from the Suffolk Downs management team and our local and state officials, seems largely an 'astro-turf' organization," Myers said.
The Friends of Suffolk Downs, which is featured on the resort's website, includes testimonials from community members that support the casino as well as extensive information on potential job opportunities.
"Should we earn a license, The Resort at Suffolk Downs will seek a diverse pool of candidates and offer full job training for 4,000 new jobs," according to the Friends of Suffolk Downs website. The website promises an average annual salary of $40,000 as well as good benefits and opportunities for career advancement.
"[Supporters are] comprised primarily of track employees and others that have or hope for track and casino jobs or financial opportunities," Myers said.
Suffolk Downs formally declared its intent to apply for a gaming license in August by filing all required forms and submitting the non-refundable application fee of $400,000 to the Massachusetts Gaming Commission.