From French cuisine to cheap Pad Thai, Boylston Street gives Boston diners a plethora of food options, landing on Zagat's list as one of the seven most exciting food streets in the country.
Boston's own Boylston Street gives "the well-heeled and hungry more variety," according to Zagat's blog post from Sept. 4.
The street, which runs through the heart of Back Bay, offers diners anything from award-winning L'Espalier to "chocolate by the Bald Man" at Max Brenner's.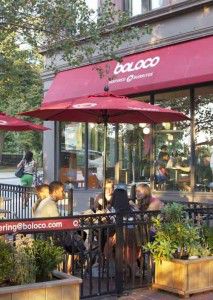 People with a tighter budget can also visit Crazy Dough's Pizza or grab a Boloco burrito.
On Wednesday evening just before dinner, some Bostonians dining at various Boylston Street eateries said they could see Boylston's dining appeal.
Amy Stevens, a Boston resident who visited Boloco, said Boylston Street is one of many exciting places to eat.
"It's not just Boylston," she said. "Many areas around here are exciting and diverse places to experience culture."
Boston was generally filled with plenty of restaurants, she said, but Boylston offers "a really peaceful atmosphere."
Min-Sang Lee, a Boston resident walking out of the upscale French restaurant Bistro du Midi, said Boylston was not the best street to eat at in Boston.
"They do have a wide selection of foods," Lee said. "But there's not a lot going on in the area."
Lee, however, said the Boston Common made the area more enjoyable for her while she eats. But the food is "nothing you can't find at Copley Station," she said.
Eighty-eight percent of the people who ate at Bistro Du Midi enjoyed it, according to Zagat's website.
The restaurant features an all-day café in addition to brunch, dinner and dessert.
Troquet, a restaurant near Emerson College that boasts an extensive wine list, offers appetizers such as lobster crepes and New Zealand langoustines.
Nathan Brooks, a Boston resident leaving Troquet, said sites like Zagat.com do not influence his decisions.
"I have limited time on lunch breaks to eat," Brooks said. "Yes, there are nice places here, but it's not unlike the rest of the area."
For those who crave burgers, FOUR Burgers at 134 Boylston St., features beef, black bean, turkey and salmon burgers.
Katie Brunner, a Boston University College of Arts and Sciences sophomore at the gourmet burger restaurant, said she comes to Boylston every once and a while to hang out with her friends.
Her favorite burger on the menu is the beef burger, which she said was delicious.
"I mainly come to Boylston to eat and hang out," Brunner said. "There's a lot of college students in this area and it's a great place to eat, watch a movie, or sit and talk."
Although she said she agrees Boylston is exciting, she also enjoys eating at Quincy Market.
Cathy Miller, who sat outside with her friends at FOUR Burger, said she enjoys eating at the restaurant because there was no glass separating the seating and the street.
"It might be a little loud, but the food is good and they have great burgers," Miller said. "It's a quaint location for my friends and me to meet and talk."
Her friend Betty Strelitz said she agreed that the area was "quaint."
"It's close to where we all live, and we never get sick of the food here," Strelitz said. "If we do, we go a little ways up to Park Street."
There, Strelitz said her and her friends often eat at Fajitas & 'Ritas, a joint that offers barbeque and faijtas.
She said the Boylston and Park Street area offered lots of opportunities for girls' night outs.
"There's a fascinating crowd here of all sorts of people," Strelitz said. "People who want to eat good food."