Though some Boston University students said weekend service for the BU Shuttle would be useful, transportation officials said demand during the day on weekends is to low to warrant the extra service.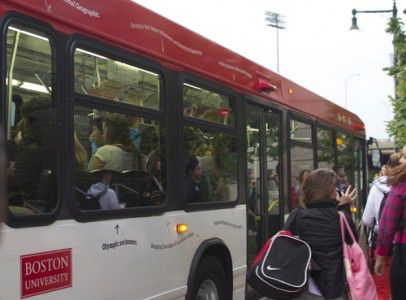 "It is far more difficult to justify the financial and environmental costs associated with extending the hours of the BUS's operation into low demand periods," said Dwight Atherton, director of Parking and Transportation Services at BU, in an email interview.
Though demand on the weekend is low, BUS service begins  at 7:30 p.m. to  offer safe nighttime transportation options, he said. During daylight hours on weekends, students could walk or use other methods of public transportation since "the Charles River Campus is very walkable campus," he said.
Only 890 students hold current on-campus parking permits, Atherton said.  Many students who live on the outskirts of campus rely on the BUS as their primary mode of transportation other than walking.
"If you live on the furthest point of East Campus, and want to do things in West Campus, you can't," said School of Management sophomore Ayako Watanabe.
A number of students, especially those in their first year at BU,  said they did not know about  this break in the schedule.
"I assumed the BUS ran on Sunday [before 7:30 p.m.], so I was waiting at the StuVi bus stop, and it never came," said College of General Studies freshman Dani Segelbaum. "I was waiting about 12 minutes and was late for where I was going."
Atherton said the primary purpose of the BUS is to provide transportation between the Charles River Campus and Medical Campus.
"It is intended to facilitate access by Boston University community members to our intercampus resources when the majority of offices are open and classes are scheduled," he said.
However, students said they still need the shuttle on weekends during the day.
"I want BU transportation during the day on the weekends because events still happen on weekends, and you need to make it across campus," Segelbaum said.
Jacqlene Boening, a freshman in the College of Communication, said she interns at WTBU on the weekends but lives in West Campus.
"Getting to COM from West Campus in a rush isn't ideal, especially in bad weather," she said.
Late night and weekend, including daytime, services were added to the BUS schedule in 2008, but daytime weekend services were soon suspended because there was not enough use, Atherton said.
The BUS service has been in place since 2005 and has continued to add more stops, more vehicles and additional hours, he said. Since 2010, the BUS has had a smartphone app that allows users to track its location.
However, some students said the BUS is still highly unreliable.
"I've wait for hours at the Huntington Avenue stop only for it not to come," said Theresa Prentice, a senior in the College of Fine Arts.
Atherton said the shuttle service operates with six buses and eight stops Monday through Friday during peak hours, with 10-minute headways. Three buses operate during off-peak hours and provide 20-minute headways.
Kristin Calabria, also a senior in CFA, said the stops the BUS makes are not ideal.
"I never take it because it never goes where I need to go," she said.