When Richard McLaughlin moved to Allston almost 25 years ago, he said, it was a bit ratty — but he liked it that way.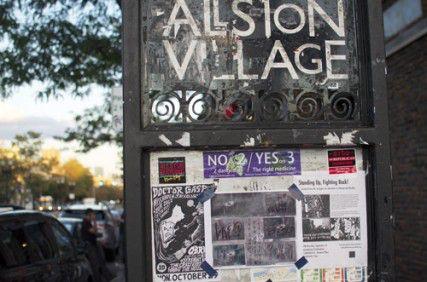 "I like Allston," he said. "There has always been a lot of young people and pretty cool parties."
On the brink of Boston, Allston residents can buy thrift items at Urban Renewals, jam out to live music at Brighton Music Hall and shop for Brazilian groceries all within a short stretch of Brighton Avenue.
Forbes magazine ranked Allston-Brighton the 18th "hippest hipster" neighborhood in America, according to a list released on Sept. 20.
A number of residents said there has been change from the Allston of 20 years ago, from the increase in frozen yogurt stores to a rising number of clubs. Despite these changes, residents said, Allston has maintained its edge.
Longtime Allston resident Joan Pasquale, the executive director of The Parents and Community Build Group, Incorporated, said Allston Village has always had a unique air to it.
"It has always had a welcoming spirit," Pasquale said. "My only disappointment is that I would like to see it get a paint job, but I would not want to change its personality."
Pasquale, who has lived in the area for more than 40 years, said Forbes "is misinformed, out of date and out of touch."
"Allston has always been the hippest place," she said. "It has been a bohemian, Greenwich Village kind of location."
Her organization's main goal is to keep Allston Village a comfortable, quirky melting pot of people from around the world, Pasquale said.
"It is a very welcoming community — it has always been culturally diverse and age diverse, from college students to senior citizens," she said. "People can get a cup of coffee in their pajamas and nobody would think twice about it."
Forbes determined the hipness of neighborhoods based on their walkability, number of neighborhood coffee shops, assortment of local food trucks and restaurants and percentage of residents who work in artistic occupations, the list stated.
While not all residents agree with Forbes' title, other Allston community members still said Allston is an artistic, diverse community.
Refuge Cafe barista Gabrielle Ryall , a three-year Allston resident, said she enjoys the atmosphere of working in Allston.
"Our coffee shop is very engrained with the community," she said. "We have art by local artists on the walls and we have regulars."
She said students are a large portion of her customer base.
"Our clientele tends to be students either hung over on the weekend or grabbing a bite to eat between classes," Ryall said.
Jameson Stewart, a 25-year-old Allston resident of three years, said nothing specific drew him to the area, but the atmosphere kept him there.
He said he has noticed a change in the short time he has lived there.
"Now there are more students, and I think it has gotten nicer and more upscale," Stewart said. "But there are so many frozen yogurt places."
McLaughlin said he has noticed a change in the area's atmosphere.
"There are more clubs and less dive bars," McLaughlin said. "Hell, one even has a 'no sneakers' sign."
Many new places are generic, he said, and the area used to be quirkier than it is now.
"I mean, look, there is a McDonald's on the corner and there used to be a pretty cool restaurant there," McLaughlin said.
Despite this, he said Allston is still hip.
While the number of college students in Allston and Allston Village is very high, the area is still diverse, Pasquale said.
"You can travel the world in Allston," she said. "You walk down the street and you see one store from Korea, one from Burma and another from Vietnam."
Laura Alfisher, a Boston University Sargent College of Health and Rehabilitation Sciences senior, said she grew up in Newton and periodically visited her grandparents in Allston.
She said living in Allston Village never crossed her mind while growing up.
"This is my third year living in Allston," she said. "It is definitely cheaper than living on campus. I knew people here so it was an easy choice moving to Allston."
She said Allston — an area she has known all her life — is a far nicer area than most people believe.
"I think that everyone is friendly here," Alfisher said. "There are a lot of different people walking around, and a lot of punks among them. They get a bad reputation, but they tend to be really nice people. Everyone knows each other in this community."
Allston Village has always been an eclectic magnet for artists and musicians alike, Pasquale said.
"When you're here you feel comfortable," Pasquale said. "You feel welcomed and like you have been here before. You don't feel that in other places."