Designers from all over the world came together at The Synergy Events' fifth annual Emerging Trends Fashion Week show Saturday. Models strutted an eclectic array of emerging fashions hailing from the United States, Poland, Ireland, United Kingdom, Canada and Spain in front of more than 500 attendees at the South End's Boston Center for the Arts.
The night was a perfect opportunity for the fashion industry's emerging designers to advance into the fashion world and reveal collections to a fashion-minded group interested in expanding Boston's fashion scene to resemble that of New York and Los Angeles. The three sections of runway show and intermissions in between allowed designers to showcase their designs on stage as well as at nearby booths.
Canada's Kimberley Crawford's innovative designs used rubber as fabric, and her designs, such as an ensemble of pale pink pants with a formfitting black halter, were simple yet intriguing. During a later runway walk, Central Square's NuVU Studio—a company of middle and high school students—revealed its Superhero Collection. The collection included a bumblebee-esque black and yellow minidress with a black hat. A textured bottom gave the dress an urban edge.
After only having started one year ago, Bitru Fariel came all the way from Warsaw, Poland, to showcase her jewelry designs. Fariel was a lecturer at a university in Katowice, Poland, but she said that designs redirected her life.
"I had a very big problem with myself, mostly the emotional aspects of my life," Fariel said. "I turned to designs to change my life."
Miss New Hampshire 2012 Ryanne Harms and Synergy's Reaz Hoque hosted the show, and European design companies showcased included Poland's Trash, Ireland's Jennifer Rothwell and London College of Fashion graduate Yeashin Kim.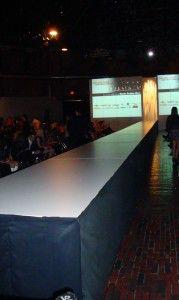 Designer Maria Pujana left behind her practice as a clinical neurologist in Cleveland to become a professor of medicine and a jewelry designer, she said. Having grown up in Spain and Latin America, she was able to draw from a variety of world influence.
"My theme is nature and the environment," Pujana said of Marise Designs. "I always care about human beings, especially as a doctor. I enjoy preserving nature."
And it shows in her designs, one of which is a beautiful piece incorporating flower peals with jewels on top to emphasize nature.
"I had trouble choosing if I wanted to study science or the arts and fashion," she said. "[My father] told me that in the Chinese culture, medicine was listed under the arts."
Christine Manthey, a New York designer, began the show with beautiful flowing dresses. Christopher Nevin's collection featured a simple gray dress with edge to it. As almost a dark bridesmaid dress, it had an uneven bottom and a tattered garnish over the chest.
Designer Jean Williams sold her bags alongside the stage, and though Emerging Trends helped her to promote her growing two-year-old Floridian company, she was originally driven by her granddaughter.
"My granddaughter, who is eight, has a kidney challenge and she inspired me to do my designs of jean bags," Williams said. "Eventually, it was such a success that I sold out."
An Emerging Trends fashion competition took place in Paris this summer and will expand to London in 2013. Boston Fashion Week continues through Saturday, Oct. 6 and ends with a celebration party at the Westin Copley Hotel.