October is here, which means the Boston University men's hockey team is back on the ice, preparing for a season of hopeful retribution.
The 2011–12 team, which was marred by off-ice issues, ended its season with no hardware to take back home to Agganis Arena. BU lost the Beanpot in overtime to Boston College before falling short in both the Hockey East and NCAA tournaments.
BU coach Jack Parker is looking to improve upon that result as he enters his 40th season as head coach of the Terriers.
This season, Parker has in a group of nine freshmen to make up the bulk of the team's roster. With senior captain Wade Megan leading the way, the 2012–13 Terriers will look to turn a new page in BU hockey history and return to the top of Hockey East.
Forwards
The forward group is young, as the team welcomes five freshmen forwards to the roster. They are sure to get ice time early, as the Terriers will likely rely on two freshmen in particular, Danny O'Regan and Wesley Myron, to play center on two of the team's four forward lines.
Another freshman forward likely to make an impact on the scoreboard is Sam Kurker, a Reading native who was a second-round selection of the St. Louis Blues in the 2012 NHL draft.
"[The freshmen] have to be important there to be solid contributors to our team because they are going to be getting ice, but they don't have to be the end-all — they don't have to carry the team," Parker said. "The success of the team is going to be decided by the sophomores, juniors and seniors. Especially the juniors and seniors."
Among those juniors and seniors are BU's top two goal scorers from a year ago, left wingers Megan and junior Matt Nieto. Megan led the team with 20 goals last year, while Nieto was second on the team in total points with 42.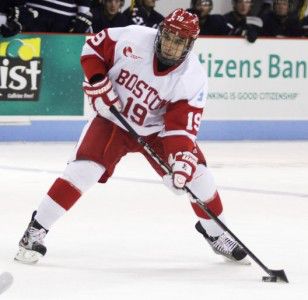 While Parker said he considered those two the top offensive threats on the team, he does not plan on playing them on the same line.
"I don't think Megan and Nieto would benefit from playing the off-wing or playing center for us. That is the only way they would play together," Parker said. "They are our top two. If you put them on a line, that line is going to be a threat because those two guys can score goals and create."
One key man for the offense will be junior forward Sahir Gill, who Parker slotted at either the top-line center or right wing. The sophomore class of Evan Rodrigues (2g, 10a), Cason Hohmann (2g, 6a) and Yasin Cissé (2g, 3a) will be looked upon to make significant improvements from last season.
Cissé, a redshirt sophomore, is one player in particular Parker is looking to make a jump to the top two forward lines.
"I have no question [Cissé] has the ability to be a very, very good player in this league and a guy that could get a lot of ice time for us," Parker said. "He's more mentally ready to do that now than he ever has been.
Seniors Ben Rosen and Ryan Santana will likely serve on BU's third or fourth lines and provide depth for the team.
Defense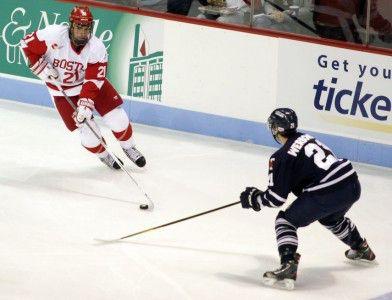 The Terriers' blue line took a hit this summer when defenseman Adam Clendening decided to forgo his final two years at BU to sign a contract with the Chicago Blackhawks organization. However, even with Clendening gone, the Terriers' defense is primed to be a strong unit.
Leading the group will be senior Sean Escobedo and junior Garrett Noonan, who will serve different roles as members of the defense. Escobedo, who scored three goals in 39 games last season, is more of a defensive defenseman that will see lots of ice time and play against the opposition's top forwards.
Noonan, on the other hand, plays more of a two-way role from his spot on the blue line, and tied for the NCAA lead in goals by a defenseman during the 2011–12 season with 16.
"[Noonan is] in an obvious role as a leader on the team because of how much ice time he gets. He'll kill every penalty, he'll play every power play," Parker said. "He's coming back as probably a guy that people will be looking at as being an all-league type of defenseman, have a chance at being an All-American type of defenseman."
Also among returning defensemen are redshirt senior assistant captain Ryan Ruikka (0g, 5a), junior Patrick MacGregor (0g, 3a) and sophomore Alexx Privitera (4g, 10a), all of whom played large roles on the team's defensive corps last season. Privitera in particular seemed to hit a stride at the end of last season, totaling six of 14 total points on the season in the final nine games.
The Terriers will also be bringing in two freshmen to help the defense, as Charlestown native Matt Grzelcyk and Kirkkonummi, Finland native Ahti Oksanen will join the team for the 2012–13 season.
Goaltending
The primary question mark for the Terriers this season is in between the goal posts, as Parker will be looking for a way to replace the consistent standout play of all-time BU wins and saves leader Kieran Millan.
With Millan and fellow goaltender Grant Rollheiser graduated, the team has brought in freshmen Sean Maguire and Matt O'Connor to take over the starting goaltender job.
Parker said he expects the two goalies to trade starts at least at the beginning of the season and sees nothing wrong with not having a set No. 1 goalie.
"It will be great if they played every other game for all four years," Parker said. "That is a pretty nice way to keep each guy pushing the other guy and getting them to play up to their capabilities."
Junior goalie Anthony Moccia is also on the roster and will have a chance to earn playing time for the first time in his career this season. The Medford native was named to the Hockey East All-Academic Team in the 2011-12 season.
"We are taking a good hard look at him," Parker said. "It's not as if it is written in stone. But we recruited these two guys to come in and step in, and one of them at least is going to be the guy."