A mere 20 minutes into the first game of the season, it looked as though history had repeated itself. Junior Marie-Philip Poulin, the co-captain of the Boston University women's hockey team, left the bench with just minutes left in the first period of the Terriers' games against Boston College after blocking a shot with her hand.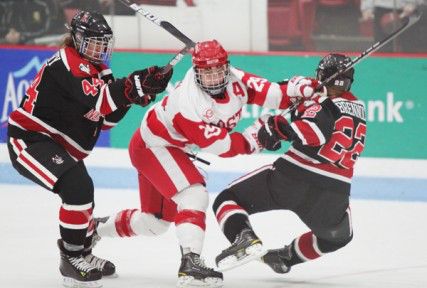 "I got a lot of flashbacks to the last two years," said BU coach Brian Durocher.
The terrifying moment passed as Poulin, slightly sore, came back onto the ice at the start of the second frame, and went on to assist on the game-tying and game-winning goals.
In two years with the Terriers, the talented forward has yet to play a full season as she has suffered three significant injuries.
The shot off her hand against the Eagles mimicked that of when Poulin fractured her wrist when playing the University of New Hampshire during her freshman season. The injury cost her six games, yet she still managed to break BU's single-season goals and points records, marks that were later surpassed by teammate Jenn Wakefield.
Compared to the setbacks Poulin faced in her second season at BU, however, the fractured wrist sounds like nothing.
Two games into the 2011–12 season, in a contest against the University of North Dakota, Poulin took a hit that went unnoticed by most. Poulin ruptured her spleen, landed in the hospital and was off the ice for first semester.
"I think you could say that injury was the worst that could have happened," Poulin said.
Even after the worst was over, and she had healed from her abdominal injury, Poulin still had to sit on the sidelines. In the midst of her first game back, a Jan. 15 contest against the University of Maine, Poulin scored her first goal of the season. Later on in the game, she fractured her wrist again.
Despite all this, Poulin has taken that adversity and turned it into a positive.
"Being out last year, that made me a better person to react when something happened that's not supposed to happen and just being able to come back stronger," Poulin said.
After recovering from both setbacks, Poulin still managed to score 25 points in just 16 games.
"It's absolutely tremendously frustrating for her and, I think, everybody around her," Durocher said. "When you have somebody like that that goes through a tough, tough time, it truly is frustrating and really hard to be around because you're kind of at a loss for words."
While her success is an impressive feat considering her challenging first two seasons, it is not altogether that surprising.
"Probably since she was 14 or 15, everybody recognized that she was a wonderful skater who had strength and power," Durocher said. "But she also had a quality, probably her best quality is the fact that she sees the game at the highest level."
That talent has brought Poulin around the world as she competed at the highest of levels, including an important spot on the Canadian Olympic team that won gold at the 2010 Olympics in Vancouver.
Poulin considered playing in the Olympics a dream since she watched it on TV in 2002. This goal eventually came to fruition, as she served as the youngest member of the 2010 Canadian team. Even more than that, she became a hero as she scored the two goals that allowed Canada to beat the U.S. team in the gold model round.
"It's hard to describe," Poulin said of her experiences in Vancouver. "When I think about it, I shiver … To be on the ice representing my country … I couldn't ask for more."
Before she went to the Olympics, Poulin had cut BU off her list of potential schools. That one year, however, changed everything.
First, the Terriers won their first Hockey East Tournament, defeating the University of Connecticut on an overtime goal by former Terrier Tara Watchorn. The win catapulted BU into its first NCAA Tournament appearance.
These advances, as well as the addition of a few other impressive Canadian players, shed the Terriers in a completely different light.
"Some good fortune went our way," Durocher said. "I think she kind of reassessed everything and saw Boston as a good option, knew that BU was a good institution academically, and I think felt like maybe our team was a little bit better prepared for her."
Her decision paid near-immediate dividends as the Terriers made their way to the NCAA Championship game during Poulin's first season. During the contest, which the Terriers went on to lose 4–1, Poulin scored the team's lone goal. She came out of the season with numerous honors, including Hockey East Rookie of the Year.
"She is hands down one of the best teammates I've ever had," said Holly Lorms, BU's captain during Poulin's freshman year. "I am even lucky to have that one year with her."
During her sophomore season, Poulin took on the role of assistant captain. According to Durocher, however, Poulin struggled in this position because of her respect for the upper classmen as well as her injuries that kept her off the ice.
That did not stop her teammates from selecting her as co-captain for the 2012–13 season as a junior with senior Jill Cardella.
"She learned through adversity," Durocher said. "She's another year more comfortable … When she speaks, she picks her spot and people listen. That's a sign of the respect she garners from the team."
While Poulin would like to see the Terriers win another Hockey East Title and win their first Beanpot as a varsity team, she also has another dream in the not so distant future — a spot on the 2014 Canadian Olympic team.
While she would miss a season at BU, Durocher said he hopes Poulin would return to the Terriers squad as a senior for the 2014–15 season. From there, he said, she would pick right back up with her key role in BU hockey.
"She would come back as the consummate leader."