Boston University students voiced concerns about safety following the stream of robberies around campus, questioning potential racial profiling from the BU Alert System.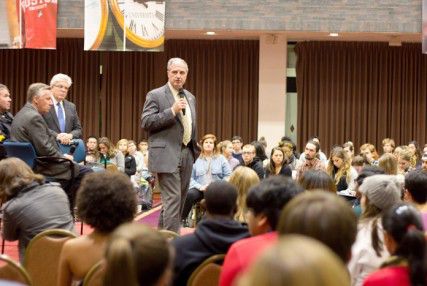 Since Sept. 23, there have been three armed robberies and one attempted armed robbery on or near the Charles River Campus. BU Alert messages have described the suspects as two or three black males dressed in hooded sweatshirts each time.
Chief of Brookline Police Daniel O'Leary, Chief of BU Police Tom Robbins and Vice President of Student Affairs Peter Fiedler fielded questions from more than 300 students in the Metcalf Ballroom. A number of students asked why only a race-based description was given to students, when the police had more information at their disposal.
"I was glad that people brought that up so that we could address it to say that this is not what we are here for," O'Leary said. "We are here to make sure that everybody is safe. These kids just happen to be black, you know — crimes are committed by every race — male, female. It doesn't differentiate."
Fiedler said the way the BU Alert System described the suspects would have been the same for suspects of any race.
"If it had been three white males who had committed these crimes, we would have done the same thing," Fiedler said. "There is no prejudice, if you will, in terms of how we report it to the community."
The Brookline PD released more descriptions of the suspects during a press conference in Brookline Wednesday afternoon from a video of the second robbery, which showed all three suspects.
O'Leary said he believed that the two robberies on Sept. 25 and Oct. 5, both of which included three young black males, are connected, but the two others, which included only two black males, might not be connected.
The suspects used a black automatic pistol in the first three robberies, but a silver revolver in the most recent incident.
College of Arts and Sciences freshman Richa Kaul said the police departments could have answered race questions more directly.
"I cannot imagine walking around this campus and feeling uncomfortable — it doesn't matter what they have to do, they needed to make it so that BU African-American students do not feel uncomfortable on campus," she said
O'Leary said the police department hopes that the video of the suspects and the "generous" $10,000 reward are "going to get somebody to talk."
He said one suspect had a red hoodie, black backpack and braces, the other subject had a gray T-shirt with the number six and another unknown number, as well as a purple backpack. The third suspect was not very descriptive, he said.
O'Leary said after the meeting that he has used rewards in two cases, one which came to a quick conclusion, and another that took more time. He said he hopes this will speed the process.
"Young kids who have a gun, you want to get both the gun, and them off the street," O'Leary said.
O'Leary said the police department has been in touch with all schools in the area in order to find a name to go with the two suspects.
BU students received an email Wednesday afternoon with a link to a BU Today article informing them that a $10,000 reward would be granted to any help leading to a conviction, and the video.
"We obviously were concerned about the three first instances that happened, they were our family members, our students," Fiedler said. "But when it ended up being on our campus last night [Tuesday] on our property, it really sort of changed the whole complexion of this situation."
Sgt. Michael O'Hara of the Boston Police Department said black students should not act defensively when approached by police.
"You can also be a victim, and we are out there to help people," O'Hara said.
One student said that when she asked students on her floor whether or not they wanted to attend the meeting, one person warned her to stay away from black people.
Dean of Students Kenneth Elmore said students should confront others about such remarks, which he said  are signs of ignorance.
"When we don't call people out on it, we should all be ashamed," Elmore said.
CAS freshman Morgan Phelps said the fears of racial profiling might be exaggerated.
"I just felt like it went a little out of hand," she said. "If the suspect was a white girl with red hair and a trench coat, then people would look at me too, so I don't think it's supposed to be racist."
O'Leary said although students might not see Brookline PD marked cars, the police have bicycles and unmarked cars patrolling the area.
Robbins told students they should be aware of their surroundings, call in any suspicious activity and if they are robbed and when out in Allston, walk with friends and join a group of students even if they are unknown.
One student, who was not identified by name, asked whether or not BU would consider escort services for people living off campus, but Elmore said security in that area is overseen by the Brookline PD.
"I am not going to say absolutely no to that, but I think we have to have some further conversation and discussion with the folks in Brookline whether or not the escort services move beyond that space or not," he said.
Fiedler told students at the meeting that these crimes were a "blip on the screen," and that crime has decreased over the past two years.