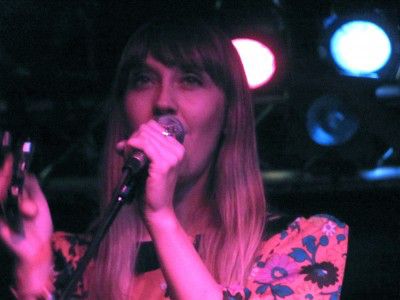 After a four-year hiatus, Omaha natives and label-evading weirdoes Tilly And The Wall brought their eclectic act to Brighton Music Hall on Friday in support of their new album, Heavy Mood.
The band is probably best-known for two things  — their 2004 LP Wild Like Children became the first major release on Conor Oberst's Team Love label, and the band often uses tap dancing instead of a drummer to keep the beat in their songs.
On the BMH stage, each singer was standing on a blue wooden platform (each decorated with googly eyes) and wore tap shoes to keep a beat while singing and playing their respective instruments. At the center stood Jamie Pressnall — the band's resident tap dancer ­— on a platform high above the others, clad in an unyielding grin and a colorful dress that looked like something of out a Dr. Seuss book.
It's getting more rare these days to see a band having as much fun onstage as you are watching them. Today, the melancholic has usurped the euphoric, the joyful dance taken over by half-hearted head bob. Today, we'll go to a concert to cry along with Justin Vernon or suffer an aching catharsis listening to the hushed chords of Iron & Wine. I'm not discounting these artists, but going to a Tilly And The Wall show felt incredibly refreshing because of the sheer amount of palpable joy amongst both audience and performer.
Lead singer Kianna Alarid invited the crowd as well as the opening band to dance onstage during "Rainbows in the Dark" as balloons floated over the audience, all the while maintaining perfectly synchronized dance moves with Pressnall and co-lead vocalist Neely Jenkins.
Tilly And The Wall's flair for the dramatic, its unabashedly loud color and the unique je ne sais quoi brought on by the element of tap dancing make for one of the best live shows I have ever had the privilege of seeing.
They are a band that transcends genre and evades label — there is truly no comparison I could draw or adjective I could fashion that would accurately describe the kind of show I witnessed on Friday, a first for a grumpy critic like me. The band glided through many of the tracks off of their new album, as well as hitting old favorites like "Bad Education," "Pot Kettle Black" and the beloved finale "Fell Down The Stairs."
About halfway through the show, a tall man toward the back of the crowd stood up after "Dust Me Off" and shouted, "Make music forever!"
I second that motion, sir. Here's hoping Tilly never goes on hiatus again.