Cleaning the vomit out of Boston's cabs on Sunday morning is not something Boston Cab Association driver Youssef Tyawl has to deal with as a day driver.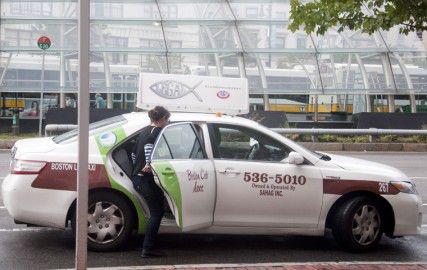 That responsibility falls on the "night drivers," Tyawl said, and on any given weekend night the number of cabs needing such cleaning service averages about one out of every 20.
Tyawl said he is a "day driver," and he does not deal with the decidedly rowdier nighttime crowd of clientele. He said he starts work at 6 a.m. and gets off at about 4 p.m.
"The people I drive are all professionals," Tyawl said. "You work daytime, you work with businessmen. So I have no problems. Ninety-nine point nine percent of the time, I am dealing with professionals. That's not the case for someone who works at night."
Those who work at night, Tyawl said, get the rowdier college students.
On Oct. 15, a Northeastern University student assaulted a Boston cab driver, according to Boston University Police Department crime logs.
BUPD observed an altercation at Packard Square, where a Northeastern student was running around a taxi and assaulted the driver. The student damaged the cab's window and the cab driver was struggling with him.
Matthew Brown, an office employee at City Cab Association, said college students provide much of their business.
While Brown said he does not hear too many specific complaints of drunken students vomiting in cabs, he said many kids skip out on fares.
"It's about 45 percent who end up not paying out of all rides, I'd say, so yes, it is significant," he said. "We get a lot of complaints from drivers about kids just jumping out of the cab or saying they'll be right back with money and never coming back."
Khaled Yicine, a cabbie of 10 years, said he started driving during the day in 2006 and prefers working daytime hours rather than at night because there are fewer problems.
During the day, people only skip out on paying fares about three times a year in his experience, he said.
Yicine said his current customers are all courteous.
"I have no problems," he said.
Michael Stedronsky, a Suffolk University junior, said cab drivers will frequently try to rip off college students, usually by taking a longer route.
"I always use the GPS on my phone to make sure drivers don't rip me off," he said. "I've actually gotten yelled at by cab drivers for using it to get my own directions."
One driver swore at Stredonsky, telling him to shut his GPS off or get out of his cab, Stredonsky said.
But Seth Neel, a Harvard University sophomore, said he had a good experience with a cabbie when he was on his way to a Final Club punch gathering.
"First I gave the driver the wrong town once," Neel said. "Then I again gave him the wrong town, and then when we were in the right town I told him 'street' instead of 'road' on the address, which left us at the opposite end of town from my destination."
A 15-minute ride from Harvard Square to Newton took about an hour and 15 minutes, he said.
"I asked him to shut the meter off at 30 and he did, so I guess I kind of lucked out," he said.
Although Suffolk University junior Karina Lakhman's friend was causing trouble in one cab ride, the driver eventually let them back in the car.
"We were in a cab once and my friend puked in the back and the driver threatened to call the cops and told us to get out," she said. "My friend paid him like $10 and he let us all back in, plus like five extra people that were on the sidewalk."