Photographer Mario Testino's photographs are bold, fierce and, quite honestly, in your face. Testino's aptly titled "In Your Face" exhibit has found its way to Boston's Museum of Fine Arts.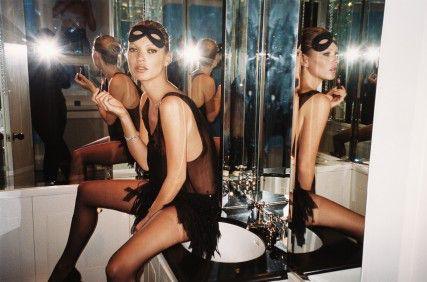 The exhibit, which opened Sunday, features his already well known photography work. Testino's no stranger to Vogue, Vanity Fair and the international market. As one of today's most renowned contemporary fashion and celebrity portrait photographers, his glamorous exhibit at the MFA includes celebrity icons such as Gisele Bundchen, Jennifer Lopez and Emma Watson.
Four rooms in total, the exhibit of larger-than-life photos is truly eye-catching. Standout work from London based work includes an image of Patricia Schmid, from British Vogue 2005, wearing a beautiful bright green dress and shiny red lipstick. A black shield covers her face, nose and eyes, creating an almost futuristic and out-of-this-world, yet beautiful, look. The exhibit makes the disparity between European and American fashion clear, as the European fashion photos are much more abstract.
One image is of Gisele Bundchen from Vanity Fair New York in 2007. She is wearing a shiny silver dress with a purple boa hanging from her arm. As she elegantly steps out of a white car and the image is shot, she makes sure to showcase every part of her outfit like a true model should. It is a powerful image that carries a strong meaning.
One of the most memorable images of the exhibit is of Kate Moss's face from 2002, with face paint in white, blue and green surrounding her eyes as she stares into the camera with an alluring look. The photographer perfectly positioned Moss on a plain background. Between Moss and the camera lens lies power and energy, which perfectly translate to the shot. The image stays in your head no matter how hard you try to forget it.
Born in Lima, Peru, in 1954, Testino moved to London in the mid 1970s to pursue a career in photography. He frequently combines the fields of art and photography into one image to create the ultimate photograph. All of the images scream Vogue and Vanity Fair, but in a good way, as if one is taking a dip inside the magazine's pages.
"I have an idea, and I convey it through other people's talents," Testino said, standing next to his image of a photograph from Asia.
The star of the photograph is Karlie Kloss, an emerging fashion model who has recently commanded much global attention. Set amid a crowd of people in elaborate dress and disorder, Karlie still manages to stand out. She is placed near the right side of the frame with a giggly and naïve look on her face as she holds onto her dress within the middle of the chaotic scene.
Capturing those moments when people are most fierce, whether in a formal fashion setting or at a private party is Testino's trademark.
"In Your Face" will run at the MFA through Feb. 3, 2013.