Boston is home to a smattering of Mexican restaurants, but few can boast a background of nearly 40 years—except Sol Azteca, that is. Opened in 1974 by Mexico native Rafael Osornio, the restaurant has resided at 914 Beacon St., a quick walk from Kenmore Square, for the past 38 years. Sol Azteca has garnered a legacy of traditional Mexican recipes and authentic dishes. From the guacamole, to the sangria, absolutely everything on the menu is made fresh on the premises, inspired by dishes from Osornio's Mexican homeland.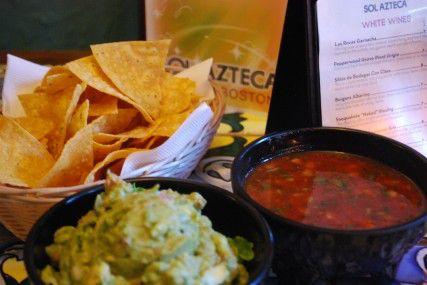 Upon entering Sol Azteca, patrons immediately sense an intimate ambiance, in tune with the restaurant's philosophy of homemade, family-inspired cuisine. With only 12 to 15 employees, including the kitchen staff, it is apparent that the restaurant runs on a family dynamic. Sol Azteca's candle-lit tables, tiled walls, Mariachi music and Aztec statues all combine to provide the perfect restaurant vibe. In addition to the beautifully designed interior, during warm weather, patrons can frequent the restaurant's patio, which has proven to be a customer favorite over the years.
In addition to an authentic Mexican experience, diners at Sol Azteca enjoy a high-energy wait staff. Because there are so few employees, most of the people have been working at the restaurant for a long time and everyone is friendly with each other. The waiters are extremely attentive, promptly refilling water glasses and checking in frequently throughout the meal. Managers Rima Osornio and Luis Carvajal are the epitome of personable, working hard to make sure each customer leaves their restaurant with a memorable experience.
Because of this, it is no surprise that most of Sol Azteca's customers are loyal to the restaurant and have been returning for years. On weekdays, the restaurant is typically visited by those ages 30 or older, but college students are commonly found there on the weekends.
Not only are the décor and service top-notch, the food is as well. With over 60 items on the menu, there's something for everyone. What is particularly special about Sol Azteca is the fact that 90 percent of its menu is completely gluten-free. Appetizers, soups, salads, traditional plates, specialty plates, desserts and drinks are all available to customers. From nachos, quesadillas, tacos, burritos and enchiladas to fajitas, chicken, shrimp, steak, beef, ice cream, cake, custard, chocolate mousse, beer, wine, margaritas, soda, coffee and tea, they have it all. A vegetarian menu was added within the past couple of years by popular request, making the menu even more encompassing.
Despite Sol Azteca's multiple menu items, a few particular meals have emerged as favorites, such as the "pollo cilantro," a grilled chicken breast tossed in fresh garlic, lime cilantro sauce and mole, the most traditional sauce of Mexico. Mole sauce is made with chilies, nuts, chocolate and spices and can be put on a multitude of foods.
Sol Azteca's authentic menu is a testament to the restaurant's rich heritage. Rima Osornio explained the story of the restaurant's founding in an interview.
"My dad came to Boston from Mexico with his business partner. Both of them wanted to be a waiter at a restaurant because waiters made more money, but there was only one spot," she said. "They flipped a coin to decide, and when my dad lost he was forced to be a cook. Because of that he learned how to make all of this food. It was kind of like fate."