The Boston University field hockey team made sure no questions would remain as to whether they are a tournament-caliber team by sweeping its final weekend of regular season play.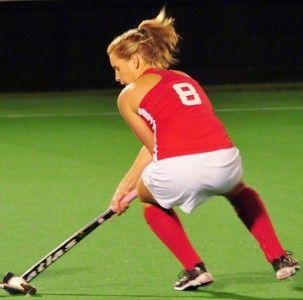 Saturday afternoon was full of emotions. The Terriers (12–6, 4–1 America East) defeated Fairfield University on Senior Day. It was also the team's final game, ever, at Jordan Field. It was a milestone victory for the program, as it was BU coach Sally Starr's 400th career victory.
"It's definitely a milestone for the program more so than for myself," Starr said regarding her 400th victory.
After upsetting No. 10 Northeastern the previous weekend, BU kept its attacking mentality going against the Stags (10–9, 1–4 America East).
In the eighth minute, junior midfielder Ella Gunson, who scored a hat trick against Northeastern, kept her hot stick going by scoring her eighth goal of the season off of a corner. Junior forward Ysi Schieb got the assist.
In the 14th minute, senior Tabi Hatch, with help from freshman Rachel Coll, picked up right where Gunson left off by scoring and giving her team a 2–0 lead. Two-and-a-half minutes later, the score margin got even wider as freshman forward Sofi Laurito split the Fairfield defense and ripped a shot from the middle of the circle to give BU a 3–0 lead.
Fairfield stopped the bleeding six minutes afterward as sophomore Felicitas Heinen scored a goal. The potential for a comeback was short-lived for the Stags though. Within a minute, Hatch scored another goal to put her team back on top by three.
Two minutes after setting up Hatch for a goal, Gunson scored another one of her own by knocking in a goal from the top of the circle. Senior midfielder Macey Gaumond got the assist.
In the 29th minute, Fairfield junior Christy Starsinic scored to lower the deficit, but BU senior back Kiley Alosso scored three minutes later to put BU ahead by a score of 6–2.
"We've been working on it and we've been close, and it all came together," Starr said. "Today they were making the extra passes, running to the right spots and finishing really well. It's nice to finally see it all come together."
On Sunday, BU traveled to New Haven, Conn., to take on Yale University in its final game of the regular season.
The first half was scoreless, but the Terriers outshot the Bulldogs 11–6 heavily throughout the frame.
The first goal of the game came in the 54th minute when BU earned a penalty shot. Senior Kiley Alosso, who scored the team's last goal against Fairfield the day before, took the shot and converted, giving her team a 1–0 edge.
In the 63rd minute, another senior, Macey Gaumond, scored off of a pass from sophomore Anne Fruitema to give BU some insurance.
They would not need that insurance because standout goalie Jess Maroney was in goal for the Terriers and did not let up a goal. It was the second shutout victory of the season for BU.
"Going into this weekend, we needed to take care of what needed to take care of," Starr said. "I really wanted a decisive win today and a decisive win tomorrow so that when the NCAA takes a look at our most recent scores, they're going to see three out of four very good results, especially with the Northeastern win last weekend."
Because of BU's ineligibility to play in the America East tournament as a result of its move to the Patriot League in the 2013–14 season, the Terriers have to hope for an at-large bid in this season's tournament.
With these two decisive victories, the Terriers finished the season with a 12–6 record, putting them in good position to get such a bid. BU will find out its fate on Nov. 6 when the tournament bracket is released following the multiple conference tournaments that will be played this week.