As the Boston Symphony Orchestra attempts to draw young patrons with discounts, only a few college students attend the city's major outlet for classical music exposure, keeping alive a dying demographic of classical music.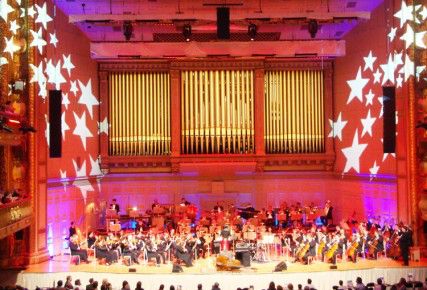 For Karim Mattar, a freshman at Northeastern University studying engineering, the interest in classical music began with his family.
Mattar said that although there has been a decrease in interest in classical music by young people, there is still an interest in it.
"I've seen a lot of students playing instruments and they feel excited about it," Mattar said. "No matter how long classical has been around, it will always have its place."
Max Benz, a sophomore at Emmanuel College and an overall music fan, said he has been to the BSO once, although only a small number of his peers attend.
"Maybe three people who I've bumped into are interested in classical music and going to the BSO," he said. "Also, it's probably because the BSO is farther away from Emmanuel than Boston University or Northeastern University."
Melissa Howe, Berklee College of Music String Department chair, said classical music is less popular among young people and that there is less interest overall than in modern years.
"For reasons I don't understand, classical music has turned into a European, educated, non-participatory, non-improvisational tradition," she said. "Every other style of music has gotten tucked away in a different category, but a more accessible category."
Howe said there is less interest in classical music in modern years.
"Bach was a working composer churning out music every Sunday," she said. " Concert halls used to be rowdy and noisy. Everyone would go. Taxi drivers would sing opera themes."
Since 2009, the average age of BSO attendees has decreased from 53 years old to 49 years old, said BSO Director of Marketing Sarah Manoog.
"It's a very consistent figure among major orchestras," she said. "Those in attendance tend to be older, well-educated and more affluent."
Only 1 percent of BSO attendees are under 21, and 19 percent are between 20 and 29 years old, according to a March survey of 4,100 people.
Manoog said most major orchestras offer certain programs to draw in younger patrons.
The BSO's College Card program allows students to purchase one card for $25 and attend select concerts every week at no cost.
"With the College Card program, the amount of students coming to the BSO has increased dramatically," she said. "Prior to implementing the college card program, our research showed price was a huge inhibitor to student attendance."
More than 25,000 College Cards are purchased every year, Manoog said.
However, some students said price is not always the main factor.
"I can say for me, it's a schedule thing," said Anastasiya Dumma, a Berklee senior. "I remember many times thinking there was a great symphony event I wanted to go to, but I had an exam or had to meet a deadline, or I was so exhausted that I couldn't go and just wanted to go to bed instead."
Dumma said she developed an interest in classical music because of the different types of music her family listened to.
"More complex classical music was never popular," she said. "It has its audience now, but it's not a big audience. The classical music audience was never very big though."
Chris Burgess, a Berklee junior, said music students have no excuse not to attend the BSO.
"When I came to Boston, I went to the BSO and I had never been educated in symphonic music," he said. "But it was just an amazing opportunity to go."
Burgess said there is a small classical community at Berklee that always attends.
"Some other students write in classical style but don't check out the vocabulary of the past," he said. "But the people I've talked to, it doesn't seem like they go. Some would rather listen to recordings and not see the live thing."
Some students do not attend the BSO because they prefer being in a group, Burgess said.
"I'm a weirdo in that I don't mind going out on my own," he said. "It's just my attitude that a concert at the BSO is two hours a week, so you should make yourself get out and go, just like anything you're passionate about."
Boston University College of Fine Arts senior Andrea VanDenBroeke said classical music is able to carry emotion in a way that modern music cannot.
"You can see theories of classical music in popular music today," she said. "People are still applying harmony and melody in music today."
But this might go unrecognized by students, VanDenBroeke said.
"I'd go so far as to say that the average college student doesn't understand the significance of classical music and how it impacts them to this day," she said.