While most Boston University students tend to head inbound into Boston to find a great place to eat, hopping on a train in the opposite direction can reveal a surprising number of dining gems. Venture down Beacon Street, for example, and eventually, you'll find yourself in Washington Square, a quaint Brookline suburb with a charming collection of restaurants and cafés.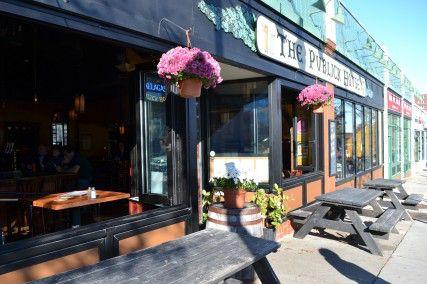 The Publick House, located at 1648 Beacon St., is a Washington Square mainstay. Whether or not you're of legal drinking age, the neighborhood tavern is certainly worth a try. With the motto "Eat Good Food, Drink Better Beer," the atmosphere of the pub alone should be enough to garner a visit.
Channeling Belgian influences, the Publick House almost looks like an old-time tavern you'd imagine in your favorite medieval-fantasy film or novel. With low-hanging lanterns casting a dim light across the bar, rich oak woodwork and antique architectural details, the pub boasts an authentic, European atmosphere that will transport you in time and in place.
If you or anyone in your party happens to be a beer aficionado, you'll likely find yourselves even fonder of the Publick House. The Publick House has a wide selection of both bottles and drafts, with an emphasis on Belgian brews and craft beer.
Although its trophy cabinet is already packed tight, so to speak, as it has received numerous accolades for its beer, including the Best of Boston 2012 award for craft beer, the bustling bar and busy dining area are an even better testament to the pub, especially considering Washington Square itself tends to be a relatively quiet neighborhood.
Even for underage diners, the Publick House has its appeal, offering an exceptional dinner menu. You can certainly expect to find more than just your typical pub fare. In fact, the Publick House is nearly as famous for its mac-and-cheese than it is for its beer.
The mac-and-cheese came out steaming hot in a cast iron pan, and although the signature five-cheese sauce verged on overwhelming given the generous portion size, it was a hearty and filling entrée that won't leave you wondering why the dish is so famous.
Another distinguished option on the dinner menu is the veggie burger, which was clearly not a pre-made, frozen burger meant to be reheated, but a homemade, artisan creation guaranteed to delight both vegetarians and omnivores. With a medley of vegetables and herbs, including shaved carrot, peas, zucchini, cumin and fresh cilantro, the burger was delicious, especially with the optional addition of truffle ketchup.
The burger came with a side salad that was dressed in balsamic vinaigrette that was so delicious, it might even be worth ordering an entrée salad next time around. The only downside of the burger is that includes ham, so if you're a herbivore, make sure to ask for the burger made sans meat.
While it's not too hard to find a table if you come early, or on a weekday, on the weekends the Publick House is packed. Because patrons tend to savor a beer (or two, or three) alongside their dinners, the wait time can be lengthy if you don't account for it.
While the dining experience was undoubtedly a positive one, if you're just there for the food, and not planning to order a beer, it's not necessarily worth the extended wait. However, arrive early enough, and you'll be able to enjoy a great meal in a unique, antique setting far different from anything you might find in downtown Boston.