Crowds of people braved the brisk November air for several hours to see perennial rock band Aerosmith play a free promotional concert on Monday outside of their former apartment in Allston.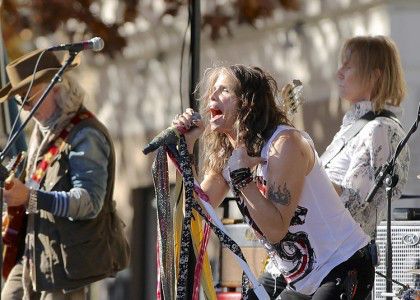 Aerosmith is widely considered to be one of the most successful American rock bands, together for 42 years.
On the eve of their 15th studio album "Music from Another Dimension!" the band returned to 1325 Commonwealth Ave. to play where "The Bad Boys from Boston" lived in the 1970s.
Arriving on the iconic Boston Duck Tour boats, the band was greeted with an introduction from New England Patriots quarterback Tom Brady.
"They created rock and roll for America," he said. "They sang the national anthem for us back in 1994, and we hope to give them the chance to do it again soon."
Steven Tyler grabbed the microphone before the band kicked off the show.
"We were never up this early when we lived here," he said. "So thank you for coming out. We have been trying to give back to this city, so here is one for you."
The concert was advertised to last for 20 minutes, but the band played about 10 songs in succession, combining crowd favorites such as "Sweet Emotion" with tracks from the new record.
Tyler made a point of stopping halfway through the set to give a shout-out to Boston Mayor Thomas Menino, who is still in the hospital.
Menino was hospitalized on Oct. 28 because of a virus, The Daily Free Press previously reported.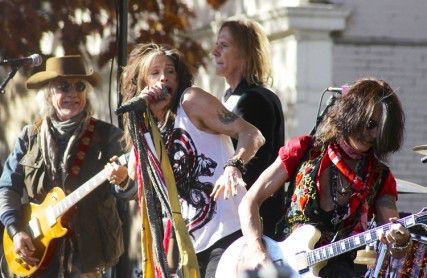 "Mayor Menino!" he shouted. "I hope you're feelin' better, baby."
Publicity for the concert suggested that it might have been held with the underlying agenda of encouraging viewers to vote on Election Day Tuesday.
But once the concert was underway, it became clear that entertainment was the primary focus.
Gayle Flaherty, a 46-year-old realtor who took a few hours off to enjoy the concert, said she was not surprised by the lack of politics.
"I wasn't expecting they would talk about it," she said. "Besides, I don't really see Steven Tyler as the type to endorse a candidate."
Though the crowd reached into the thousands, there was no trouble among the concert goers.
"We've had no trouble," said a Boston police officer who asked to remain anonymous. "Everyone just had a good time, just wanted to enjoy the music."
The B branch of the Green Line from Washington Street to Packard's Corner was closed from 10:30 a.m. to 3 p.m., and the city closed parts of Commonwealth Avenue, from Harvard Avenue to Allston Street, to vehicles from 7 a.m. to 3 p.m.
The band performed right outside the building where Ally Damiano, a sophomore in Boston University's College of Engineering, lives.
"Our landlord slipped a note under our door on Thursday saying that there would be disturbances," she said. "They didn't say it was Aerosmith coming. We heard that on the news."
Although the concert might have lacked distinct political overtones, Aerosmith did end its show by showering the audience in red, white and blue confetti.
The concert brought people of all ages together for an entertaining tribute to the lasting success of Aerosmith.
"This is where it all began," Tyler said at the conclusion of the show. "And it will never end."