Dozens of people scrounging for discounts kept the staff at Johnnie's Foodmaster in Brookline busy on Saturday, as the store holds one final sales push before closing to make way for a new Whole Foods Market.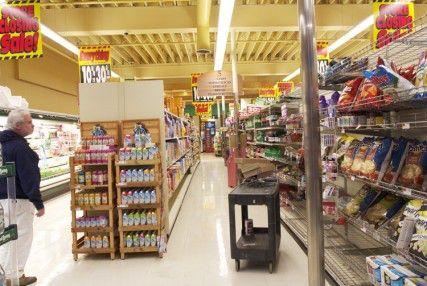 After 65 years of selling groceries to communities all over Massachusetts, the local grocery store Johnnie's Foodmaster is selling off all 10 of its locations to Whole Foods and Stop & Shop.
The original deal, sealed on Oct. 26, has the store in Brookline advertising products at 30 percent off, as the staple grocery store near Boston University's South Campus transitions into a Whole Foods.
The move has left some employees and customers of the small Brookline store somber.
"I'm more disappointed about losing my friends here — not only the employees, but the customers that I became really close to," said Johnnie's Foodmaster employee Eric Randolph. "It was like a big family here after a while. I've been here three years, that's the only thing I'm disappointed in — I'm going to miss everybody."
Whole Foods assured locals that they would maintain the standard that they have come to expect from grocery stores such as Johnnie's, according to an Oct. 26 press release.
"Like Foodmaster, Whole Foods Market has a long history of supporting the communities we serve and we are excited to bring out fresh, quality foods at affordable prices to these six new market areas," according to the release.
Reaction to the sale has been mixed, but many said they are sad to see another local business go away, even if it is voluntary.
"I am extremely disappointed, I've lived in the area for 30 years and I've shopped here since they opened," said Brookline resident Bernice Martin-Zaner. "In terms of their meat and produce, it's really wonderful — very high-quality. And when they had sales, they were really, really effective".
Martin-Zaner said he was displeased that a big chain such as Whole Foods is taking over the Johnnie's location.
"I really don't think we need another Whole Foods in Brookline," he said.
Kyle Dobson, a service manager at the Johnnie's Brookline location, said the owner of Johnnie's Foodmaster is in his 60s and wanted to retire.
"He sold half the company to Whole Foods and half to Stop & Shop," he said.
The Brookline store is scheduled to close on Nov. 30 and will reopen as a Whole Foods before the end of its 2013 fiscal year.
Whole Foods and Stop & Shop officials said they are both committed to interviewing any Johnnie's employees looking to stay after the transition at the end of the month, Dobson said.
"There's an interview for every employee — at the stores that Whole Foods bought, they bought six of them, there's an interview for Whole Foods, and at the other four stores there are interviews for Stop & Shop," Dobson said. "So it's not a guarantee, but it's highly likely that everyone will get their jobs depending on their position."
Other residents are less disappointed to see Johnnie's go, including some Boston University students who were less enamored with its local flavor.
"I didn't shop there a lot because they were expensive," said College of Communication junior Rani Gupta.
Justine Park, a sophomore in the College of Arts and Sciences, said most grocery stores carry the same products.
"Shaw's is right there, their prices are similar and there's not that much of a drastic difference between them," she said.  "Sure, there is some stuff here that you can't get at Shaw's, but it's very comparable."