Members of Boston University Students for Israel and the Anti-War Coalition weighed the morality of sanctions in Iran and their relevance to students on campus in a form hosted by Student Government officials Monday night.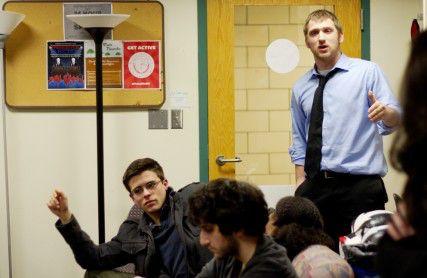 About 20 people, including AWC and BUSI members, debated their moral standpoints on the sanctions, making their appeals to SG as it decides whether or not to take a stance on behalf of students.
"This administration is very excited to be able to facilitate conversation with student groups that historically on this campus haven't been cooperating or haven't been having this conversation," said SG Executive Vice President Aditya Rudra, a School of Management junior.
On Oct. 15, the AWC requested SG take an active stance and issue a statement that BU students do not support U.S. sanctions on Iran. SG voted to create a committee to hear arguments from both sides.
AWC member Jarib Rahman, a College of Arts and Sciences senior, said the AWC is against sanctions because they are harmful to Iran.
"We believe that sanctions are a form of economic warfare," Rahman said.
Rahman said sanctions raise prices of goods in Iran, restrict access to medicine and make trade with other nations difficult.
"That's our basis to the opposition of the Iranian sanctions — because they are hurting the Iranian people," he said.
Rahman said BU has in the past taken more action than AWC's request.
"People at BU have opposed apartheid in South Africa, and have taken action way beyond what we're asking for here, which is just for Student Government to pass a resolution," he said.
Rahman said BU should continue its tradition of being vocal politically.
"Often, SG has taken in opposing these actions," Rahman said. "That's what we're asking BU to do, just sort of continue the tradition that was there in the past of taking a stance as American citizens and opposing something they think the government shouldn't be doing."
BUSI Co-President Rachel DuShey said she supports the U.S. sanctions on Iran.
"I disagree with the AWC that sanctions are a form of warfare," DuShey said. "Sanctions are a deterrent to military action."
DuShey said sanctions on Iran are a global issue of which students should be aware.
"BU students should be educated about what's going on," she said. "It's important for people to be somewhat knowledgeable about foreign politics."
Rudra said SG aims to host a meeting again before Nov. 12 to continue the conversation.
BUSI member and College of Communication senior Jack Goldberg said sanctions should not be an issue for SG to decide.
"Every BU student should be given the chance to make a decision about this," Goldberg said. "It should not be the decision of 40 people in a room based on some words by one person. This should be a decision that each student is educated on."
Goldberg said he supports the use of sanctions as opposed to military action.
CAS freshman Spencer Weiss, who is not a member of BUSI or AWC, said he supports sanctions on Iran because they are precautionary measures.
"Sanctions are a necessity to avoid war," Weiss said.
Weiss also said he is against SG endorsing a position on such a complex issue.
"I don't think any of us can truly say, 'I know everything about the issue,' because who honestly can when it comes to the Middle East?" Weiss said. "So really, I'm sort of against Boston University making a stance on the issue at all."