Republican Sen. Scott Brown said Democrat U.S. Sen.-elect Elizabeth Warren won the senate seat "fair and square" to a crowd of fired-up supporters in his concession speech at the Park Plaza Hotel Tuesday night.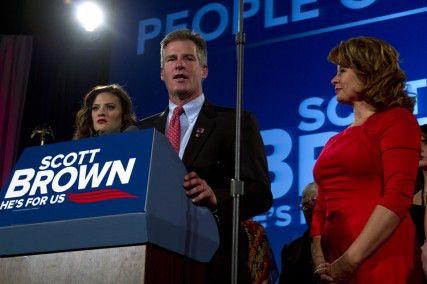 "We stand strong even in disappointment," Brown said. "I said in the very beginning when we started this trek in January, win or lose, we would run a race that we would all be proud of."
Brown lost to the Democratic majority in Franklin, Hampshire, Hampden, Middlesex, Suffolk, Bristol, Dukes and Nantucket counties with about 47 percent of votes, according to statistics at 12 a.m. on Nov. 7.
Dorchester resident and student employer service founder John Spadaccini said he wanted Brown to win because he proved to be a good senator in the past and did what he promised to do.
"He made a promise two years ago to be the Independent voice for Massachusetts," he said, "and he kept that promise."
The 45-year-old said he disagreed with Warren's decision to support public funding for abortions and said the senator-elect had a lot to learn for her new seat.
"She has only known academia, which has it's own culture," Spadaccini said. "She's going to be in for a culture shock."
Brown thanked the voters of Massachusetts, his family, friends, cabinet and campaign managers for supporting him and said he will return to the senate before handing over the reigns to Warren.
"We have a tremendous amount of challenges to look forward to going back to the U.S. Senate, as dysfunctional as it is," he said. "I will never, ever regret helping people that could not help themselves."
Twenty-year-old Wheaton College student Brian Jencunas, who has volunteered in the Brown campaign, said Brown was willing to step across the isle on issues and be a bipartisan voter, something he said Warren will not do.
"She's going to go to Washington [D.C.] and take no prisoners," he said. "She thinks politics is war. Government is about bringing people together, compromising, and Brown did that."
At the end of his speech, Brown said young people in the United States should try for things they do not think are possible, and all that mattered was what was accomplished during his time as senator, even if his tenure was short.
"When it seems nothing is possible and the odds are stacked against you, I can speak from experience, anything is possible," he said. "For me, it was an honor to carry your flag, even for a little while.