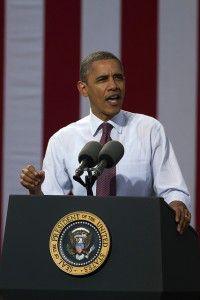 After securing a second term in the White House, President Barack Obama said it is time for the American people to come together in the face of adversity as he strives to move the nation forward.
Obama delivered his victory speech in Chicago, telling a crowd of thousands that he believes the country can overcome its challenges.
"In this election, you, the American people, reminded us that while our road has been hard, our journey has been long, we have picked ourselves up, we have fought our way back and we know in our hearts for the USA the best is yet to come," Obama said as he delivered his victory speech to a crowd of thousands in Chicago.
The president won his re-election with 303 electoral votes and more than 53,460,511 votes, said that whether Americans cast their votes for him or Romney, they made their voices heard and made a difference in the election.
"When we go through tough times, when we make big decisions, it necessarily stirs passions, stirs up controversy," Obama said. "That won't change after tonight and it shouldn't. These arguments are a mark of our liberty. We must never forget as we speak, people in distant nations are risking their lives for a chance to argue about what matters, to cast their ballots like we did today."
The president addressed the differences among Americans, but also appealed to their shared hope of new jobs, reduced debt and equality.
"We want to pass on a country that's safe and respected and admired by the world," he said.
Romney delivered his concession speech minutes before, telling the crowd at the Boston Convention and Exhibition Center that he wished he could have fulfilled their hopes to lead the nation in the different direction.
"This is a time of great challenge in America, and I pray that the president is successful in guiding our nation," he said.
Romney thanked his running mate, Paul Ryan, in his speech and said that while the election is over, their principles endure.
"I believe that principles on which this nation was founded are the only sure guides to a resurgent economy and to renewed greatness," he said. "Like so many of you, Paul and I have left everything on the field. We have given our all to this campaign."
This was Romney's second run for president. He lost in the Republican primary election in 2008.
Obama supporters in Boston cheered as new outlets projected Obama as the winner.
Boston University students celebrated the president's re-election at watch parties hosted by Student Government and the Howard Thurman Center for Common Ground Tuesday night.
"I'm relieved, and I have a renewed faith in the American people," College of Fine Arts senior Ashley Teamer.
Marlo Kalb, a College of Arts and Sciences freshman, said that she voted for Obama because she supported his health care plan.
"Obamacare really benefits people in the long run," Kalb said. "I also like his foreign policy, and I think that we have had a really great presence on a global scale since he's been [in office]."
Alicia Scott, of Hyde Park, cheered when she heard about Obama's victory at the Obama for America celebration at Brownstone in the South End.
Scott, who campaigned on Team Jamaica Plain for Obama, said she was overwhelmed by the president's re-election.
"I can't believe that I took part in this," she said. "I am blessed that I had the opportunity to help him get back in office. I just can't believe it."
Richard Johnson, a Team Jamaica Plain for Obama campaign coordinator, said Obama's re-election gives him an opportunity to carry through with his campaign promises.
"I think it proves that 2008 wasn't a fluke," he said. "I think there's an unknown element in that we still have to correct the damage that has been done by the banks … We're going to need both republicans and democrats to carry that out, so it's still going to be a hard road ahead."
Jessica Albrecht, a 37-year-old mom and tutor from Washington, said she felt sick after news outlets projected Obama's win.
"I'm just shocked that we're here, that people would want this president again after four years that have been awful," she said outside of the Boston Convention and Exhibition Center.
Hundreds of supporters filled the Boston Convention and Exhibition Center in support of Romney Tuesday night. Kristen Raleigh, a 26-year-old mother from Hull, said she was really excited to come to Romney's election night party.
"I'm not happy if Barack Obama will be re-elected, and it looks like he will be," she said.
Romney won Electoral College votes in Virginia, but it was not enough.
Romney, who held his election night party at the Boston Conference and Exhibition Center, faced protesters outside the hall from the Massachusetts Immigrant and Refugee Advocacy Coalition, demonstrating a lack of support Romney faced with immigrants and other minority groups.
The protesters chanted and protested outside the hall for more than two hours.
Franklin Soults, communications director for MIRA, said the protesters were celebrating the power of the immigrant vote, including naturalized citizens and could-be eligible voters, and to demand that both candidates, Romney and Obama, address immigration reform.
"We want them to know, whoever is elected president, that we will be watching, and we will be expecting immigrant reform to be happening in the next administration," he said at the demonstration.
Damaris Lopez, director of programs at Agencia Alpha, expressed frustration over how Obama addressed immigration policy in his first term.
"We saw a lot of promises, and we never got any action." Lopez said. "…We want to educate our community, organize, and send a message that immigration reform needs to be considered now."
President Obama will be sworn in for his second term on Jan. 20, 2013.
Margaret Waterman, Chris Lisinski and Rachel Riley contributed to the reporting of this article.