As Election Day unfolded throughout Boston, emotions ran high at the Boston Convention and Exhibition Center, where supporters and protesters gathered around Republican presidential hopeful Mitt Romney's election night party.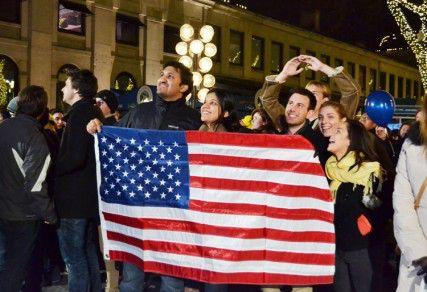 Tara Wall, a senior advisor for Romney's campaign, entered the Boston Convention and Exhibition Center with a smile on her face.
"I think he is the needed change the country needs," said Wall, who came with her mother.  "It's time for a business leader. He has a record of bringing troubled economies back."
But later in the night, members of the Massachusetts Immigrant and Refugee Advocacy Coalition gathered outside for more than two hours to protest for immigration reform.
Franklin Soults, communications director for MIRA, said the group gathered to celebrate the power of the immigrant vote and demand that both candidates finally deal with immigration reform.
"We want them to know, whoever is elected president, we will be watching and we wil be expecting immigration reform to be happening in the next administration."
Although the scene outside the BCEC remained tense, hundreds of other voters across Boston celebrated election night in restaurants and among friends.
Back Bay
Voters in the Kenmore, Fenway and Back Bay areas said they were excited, anxious and hopeful about the presidential and Senate elections in the hours before poll closings.
SoJust, a cross-cultural, cross-issue progressive community, hosted a watch party at The Lansdowne Pub was a space for like-minded progressives to gather to watch results come in, said Robbie Samuels, the night's organizer.
"We're not focused on a particular party's politics," Samuels said. "Progressives are interested in a whole bunch of issues."
Samuels said members come from a variety of political positions, as long as their agendas include social justice.
Meanwhile, Drinking Liberally Boston discussed incoming results over food and drinks at The Globe Bar and Café on Boylston Street.
"People who are progressives can get together and socialize and discuss politics and possibly act on what they're discussing," said Wendy Matarazzo, the night's organizer.
Matarazzo said watching the results come in with others was enjoyable.
"People are really interested in talking to other people, especially as things get crazy and frustrating with different voting anomalies," she said. "It's kind of nice to not have to sit home and scream at your TV by yourself, but to be with other people who understand what you're thinking."
Barry Hariton, a downtown Boston resident at the Drinking Liberally watch party, said he came out to celebrate with fellow politically active people. Hariton said he voted for Obama and the U.S. Sen.-elect Elizabeth Warren.
"I can't vote for a Republican because, when push comes to shove on the vast majority of issues, [Republican U.S. Sen. Scott Brown] is going to go with his people," he said.
Cambridge
Harvard Square was active Tuesday with locals advocating their candidates and traveling to the polls. Emily Garcia, a 25-year old Kellogg Fellow at the episcopal chaplaincy at Harvard University, said a church she attended mentioned the election.
"I actually just came from a church service over at the monastery down the street, and the sermon just sort of touched on the election, giving a prayer for wisdom and for everyone who has a chance to vote," she said.
Cafés around the area were full of people chatting about the then-upcoming election results.
John Harvard's Brewery and Ale House in Cambridge invited customers to enjoy food and beverages while waiting for the election results.
Warm, dimly lit and filled with soft Irish music, a number of patrons sat, ordered drinks and conversed as they awaited the outcome of the election.
Mary McCrossan, a part-time waitress at John Harvard's, said the bar was especially busy because of Election Day.
"People are excited about today," she said. "This is the busiest the bar has been on a Tuesday night in forever."
At the Harvard Square T stop, several people stood underground holding Elizabeth Warren signs and urging others to vote.
Allston-Brighton
A number of residents who came out to the Allston bars looking for election night gatherings said they were disappointed.
At the White Horse Tavern on Brighton Avenue, the televisions were loud, but there were few spectators. Leslie Chavez, a 30-year-old sales executive from South Boston, said she came to Allston looking for an exciting political atmosphere.
"I think of it almost as a big sporting event," she said. "It's making history."
Chavez said she was disappointed to find such a small crowd.
"All I wanted is a big TV, and I want to watch political stuff — and we walk in and it was the four of us," she said.
Other customers said they felt the same way.
"I expected it to be a little bit more lively, but it is a Tuesday night," said Emma Socha, 21, a junior at Simmons College who came to the bar dressed in red, white and blue.
Despite the lack of viewers, White Horse was one of the only bars in Allston showing the election results with the volume turned up. In honor of election night, they offered a mock ballot on which customers could vote on items related to the bar, such as favorite drinks or favorite food.
Several other bars, such as Wonderbar and Silhouette, played the results on mute and had no activities planned.
BU Law student Maarten Tuurenhout, 25, said he decided to return home to watch the election.
"My friends and I went to Patron's Mexican Kitchen [to watch], but when we asked them to turn the volume up, other people in the bar complained," he said. "These big guys laughed and told us they would rather watch 'Sex and the City' than the election."