Allston locals are supporting Brenda Wynne, co-owner of Stingray Body Art, as she recovers from a hit-and-run incident on Halloween that left her in the intensive care unit.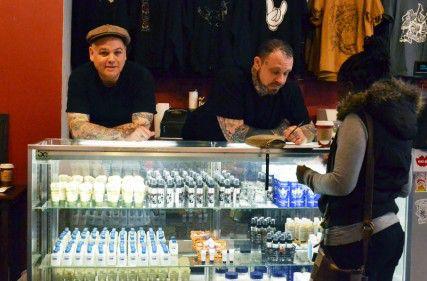 Wynne, 45, has been moved to Spaulding Rehabilitation in Boston from the ICU as her friends await her recovery.
On Halloween afternoon, Wynne stepped into the street near 1430 Commonwealth Ave. in Allston after the light turned and gave her the right of way, said Scott Matalon, co-owner of Stingray Body Art. Wynne was not jaywalking when she was hit.
"It's unthinkable to me that someone could hit someone so obviously and not stop," Matalon said. "Her hip was broken in multiple places, and her femur broke clean in half — she is banged up really bad."
Wynne is well known among artists and musicians, and "knows all the hipsters and locals," Matalon said.
"She has been a big part of the community her whole life," he said.
Supporters of Wynne can expect to see benefits held at Brighton Music Hall, likely in January when she can attend, Matalon said.
"We're trying to put together a fantastic show for that to raise some money [to] help her pay her regular day-to-day bills and help her eat while she recovers," he said. "It's very difficult to be in that position. Imagine [you're] in your 40s and you're an owner of a business and having to ask your family for help."
Wynne has been out of Stingray for two years battling a kidney condition, Matalon said.
Just as she began going back to work, the vehicle struck her, he said.
"There are a lot of people very angry about this. A lot of people," he said. "She was very popular. The most insulting part is that the driver left her there to die."
After more than seven years in the same storefront, Matalon said these things happen all the time.
"Right on this corner, a little girl got hit in a hit and run. She was okay," Matalon said. "Last year, a bicyclist got creamed and there was blood all over the street."
Wynne announced on Facebook Tuesday that she was moved from the ICU to Spaulding Rehabilitation in Boston.
"I planned to go visit her in the next few days now that she has been moved," said Jennifer Robb, 46, her coworker and longtime friend. "She actually just said that she can expect to be walking before spring."
Robb said she has lived and worked with Wynne for more than seven years.
In light of Wynne's accident, Robb said criminals do not seem to think about consequences.
"Rather than it [the accident] being indicative of crime rate, it's more about a growing lack of empathy and sense of responsibility," Robb said. "People are desensitized to the consequences."
Although the incident has the victim's close friends concerned, Boston-area residents said the incident is just another example of unfortunate accidents that frequently occur in Boston.
Hailey Rowe, a senior at Emerson College who frequently visits Allston, said she notices the problems with traffic throughout Boston and sees no end to jaywalking.
"People are pretty reckless," Rowe said. "Drivers definitely don't obey traffic rules along with people walking or cyclists, which is pretty dangerous."
Allston resident Leila Einhorn, 22, said she was not surprised that a hit-and-run occurred in Boston.
"It's notorious for having terrible driving habits," she said. "I mean, hearing that someone got hit by a car is horrible, but it's also not that surprising."
Carlos Santiago, a College of Arts and Sciences sophomore in the shop, said he periodically jaywalks on Boston streets.
"Most of the time I'll wait for the sign to change," he said. "But if the opportunity arises, I'll cross if there are not a lot of cars."
Matalon said police have not apprehended the criminal and that it will prove difficult because there were no cameras on the traffic lights on Commonwealth Avenue.
The Boston Police Department could not be reached for comment in time for print.